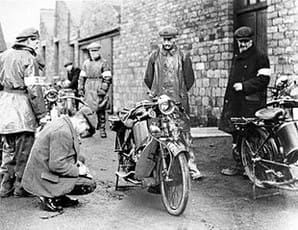 Scott 1908-c1972
One of 12 children, Alfred Angas Scott was born at Manningham, Bradford in 1874. The son of a Bradford merchant and Scottish mother, Scott was educated in Scotland, then at a Staffordshire public school. He rapidly developed independence, self-reliance and confidence – attributes which made him an original thinker, who later heavily relied on his own development and designs rather than the work of others.
After school, Scott trained as an engineer, serving his apprenticeship predominately in the steam marine world with Douglas and Grant of Kirkcaldy, then WSisson and Co Ltd of Gloucester. The expertise and experience he gained was absorbed and later put to use when designing his own petrol engines. On returning to Bradford, Scott gained his first two-stroke experience, working on a two-stroke gas engine for a brother. Next came cycles – Scott's first patent application in 1897 applied to a caliper brake design, which operated on the cycle's rear wheel.
During 1897 Alfred began building a vertical twin cylinder two-stroke engine, its performance enhanced by utilising crankcase compression. Initially, the engine was mounted above the front wheel of a Premier cycle with drive by the engine's exposed central flywheel rubbing on the front tyre. Although satisfactory in
dry conditions, in the wet drive was lost. Of later importance, the machine was tried by Frank Philipp, a cousin of Scott's by marriage.
Despite problems and rapid bore wear, Scott was encouraged to continue development. By 1902-03 the engine had cast-iron cylinders machined to a larger bore diameter. It was mounted within the frame diamond near the headstock, with drive by belt to a drum that acted as a roller on the rear wheel. Next the drum was replaced by a countershaft, which also offered a free engine facility, driving the rear wheel by chain and sprockets.
All the development had led to a truly usable motorcycle for all weather conditions, which was registered AK166 in December 1903, ready for registration requirements that became law on 1 January 1904. Holidaying in Scotland on the Clyde, Alfred would take his motorcycle engine to power a small boat he borrowed in place of its usual MMC unit. This encouraged further marine engine development and testing.
Alfred Scott's continuing two-stroke twin cylinder development led him to start patenting his work in February 1904. His fertile brain came up with more engine designs for larger and larger twin cylinder marine engines, carburettors, plus exhaust theory and development work leading to better exhaust systems.
Over the next few years, more patents followed for either marine or motorcycle applications including telescopic front fork, carburettors, and his two-speed gear system. However, Joah Phelon of P&M claimed this design his. Arguments reigned across Yorkshire between Phelon and Scott but it's worth remembering Harry Lawson and MMC had taken out patents earlier for a similar two-speed gear system. To add further confusion, when researching patents it's worth noting another Alfred Scott (from Leeds) was also filing motorcycle patents at the same time, including for a motorcycle spring frame.
By 1908, Alfred Angas Scott was ready to begin modest production of motorcycles, for which he'd developed a 333cc twin cylinder two-stroke with water-cooled heads and his patented triangulated frame using all straight tubes – Alfred hated curved frame tubes. Although injured in a motorcycle accident, Scott completed the drawings for his first machines and six were built by Jowett Brothers of Bradford.
Later, some claimed the 333cc model wasn't that good – however, it performed well in hill climbs and on occasions won three classes in a day; open, variable gear and multi cylinder. The new Scott attracted much attention, not all favourable… after all, real men rode single speed four-strokes and they took offence at being comprehensively blown – or should that be smoked? – into the weeds by a two-stroke with silver and purple paintwork…
The whingers claimed the Scott cheated as it had two gears and two cylinders, each of which fired twice as often as their big singles. How dreadful! The ACU acted, handicapping air-cooled two-strokes by a factor of 1.25 and for good measure water-cooled models by a factor of 1.32.
Hopefully, like many such biased acts, the publicity and press coverage gave Scott's fledgling motorcycle business an early boost. After the first six Scotts, Jowett ended their contract with Alfred, leaving him to float a company and secure enough capital to start manufacture in his own right. Initially work was spilt between Alfred's Snowden Street workshop and another secured for the new company at Grosvenor Street, Mornington, Bradford, while other work such as frame building was farmed out. Design improvements continued including revised crankcases, kick-start modifications, engine enlarged to 450cc, longer wheelbase and more.
Marketing began in March 1909 with an advertisement in The Motor Cycle bearing the legend 'two-stroke, two-speed and two cylinders'. A couple of years later, Scott cleverly began using the registration number AK222 in all promotions, the digits representing Scott's previously mentioned legend. Early manufacture was slow but eventually customers got their machines, even if they'd waited for months. Happily, most were delighted with their 'different' motorcycles and many added their own modifications, including Mr Lupton who replaced the then standard Scott radiator with one of honeycomb design. Scotts began using this concept in 1911.
Poor luck at the IoM TT races and still being handicapped by the ACU limited racing-led promotion, however the trials exploits of Jesse Baker helped. It's believed in 1911 about 250 machines were built. Further improvements included a capacity increase to 486cc and water-cooled barrels were employed for the first time. And although still not on the IoM winner's rostrum, at least Frank Philipp posted a first Mountain Course lap record at over 50mph (50.11mph).
For 1912 Scott upped engine capacity to 532cc, the two-speed gear was modified to run on ball bearings and inlet/exhaust ports were changed from circles to slots. Racing specially built 486cc models in the year's TT, Philipp finished 11th while Frank Applebee won. It was a much needed and deserved victory that was historically significant too, being the first time a two-stroke had won a TT and the first time the winner had led from start to finish. Sales rose to 550 machines in the year and Scott began developing motorcycles for military applications.
Now more buoyant, Scott secured further finance and moved its 60 strong workforce to new premises at Hirstwood, Saltaire, near Shipley. Development continued and sales increased helped by new boy Tim (HO) Wood who won the 1913 Senior TT, his first ever road race. Roadster production focused around the now familiar 532cc twin engine but a new more torquey model was designed for the 1914 TT, which set another fastest lap but failed to gain any leading places. In the same year, the Scott factory ran their Scott Trial for the first time.
For the war effort an outfit was developed with the sidecar built to take a machine gun. Initially 300 were ordered but the model suffered problems. On the rebound, Alfred eschewed motorcycles to develop a two-stroke twin cylinder three-wheeled guncar.
Although never put into military service Alfred was smitten by this concept, sold his shares in the Scott Engineering Company, severed links with motorcycle development, and established the Scott Autocar Company at Lidgett Green, Bradford to build a civilian version of the guncar named the Scott Sociable. Nicknamed 'The crab', the 578cc Sociable was built 1921-25. Succumbing to pneumonia, Alfred died in 1923 aged 48.
Returning to motorcycles. The authorities restarted the annual Olympia Show in 1919. Few makers including Scott were ready with new exhibits and some were struggling to return to peacetime production. However, Scott displayed three solos and an outfit, all based on the 532cc machine, which boasted some detail improvements including double sight-feed lubricators, radiator honeycomb redesign and front fork improvements.
IoM TT racing restarted in 1920 but Scott waited another year before returning with a redesigned model with over-square 486cc twin cylinder two-stroke engine. For the factory only RW Stansfield (17th) finished. Mr Stansfield and another Scott employee constructed a special one-off 486cc Scott for Jesse Baker's ride in the year's SSDT. Later affectionately known as the Stansfield Scott, it's thought to have inspired the immortal Squirrel.
The new 60mph 486cc two-speed Squirrel with aluminium pistons and twin drip feeds placed in front of the rider was Scott's first machine to be designed and built as a 'sports' model. Scaling 220lb and priced at £105, it was unveiled at the 1921 Olympia Show. For many marque fans it's the definitive model and, after some hesitance, the period press gave it the thumbs up too.
Race prepared production Squirrels with larger fuel tanks and race-built engines were taken to the 1922 IoM TTs. Although suffering ignition problems, due to overheating sparking plugs in the air-cooled cylinder heads – only the barrels were water-cooled – the machines went well enough to scoop the manufacturer's team prize, with Harry Langman (third) their leading rider. Further trials success helped keep cash strapped Scott ahead of the liquidator for a little longer. Towards the year's end, a near conventional three-speed gearbox designed by Harry Shackleton was offered for the first time – initially as an option on the 532cc model.
Desperate for a TT win Scott – like many rivals – was feeling the pinch as the buying public were being forced to tighten their belts. New models with a longer stroke and water-cooled cylinder heads formed the basis of the solo team while Clarrie Wood and Harry Langman were down to drive 596cc versions in the first-ever Sidecar TT. Ill luck dogged the Shipley team, with Wood crashing his outfit in the last practice session and Langman on the last lap of the race after setting the first Sidecar TT lap record – events which sidelined both from the blue riband Senior.
Jack Watson-Bourne took over one of the works entries to finish 11th. However, success was much better in the trials field and Langman won both the Welsh TT and the Ulster GP road races.
Despite all, Scott soldiered on, although as a company it was slipping further and further into debt. A brave face was put on it all at the 1923 London show with two and three-speed Squirrels and 532cc models on display, along with the option of the 596cc engine based on that of the Wood/Langman TT outfits. Eventually the official receiver was called in and a rescue package was developed, headed by Reginald Vinter; a farming, fishing, shooting country gentleman who directed operations from a distance. Despite the company restructuring and much needed economies, Scott was set up as well as they ever had been for the next few years. A new all-square 498cc (68.25 x 68.25mm) engine was built for the 1924 Senior IoM which, although used in practice, was replaced by Langman and Wood with the 1923 longer stroke units for the race. It proved a sound decision as Harry Langman was second in the Senior at over 61mph and, after an engine seizure, Clarrie Wood was 13th. Off-road, Scott continued to perform well with among others Geoff Milnes scooping many firsts and cups.
Although not raced in the Island, the new 498cc engine was worked into the Squirrel in readiness for the London Show and for another three guineas it was available with a longer stroke engine to give 596cc. The large-for-Scott range also included the old 486cc model, still sporting air-cooled cylinder heads with options of two or three-speed gearboxes. Outwardly, they looked like the new model Squirrels, but engine detail gave the secret away. Although the Scott Sociable was soon to fade away, Shipley Scotts were in a relatively strong position to face the second half of the decade.
Scott's fortunes were again rising, boosted by strong interest in the Super Squirrel range, but there were disappointments too. A larger team went to the IoM, though Langman's brave 1925 Senior ride to fifth was Scott's only finish. By the Olympia Show new top-of-the-range 498/596cc models, the Flying Squirrels, were unveiled, with TT-style full frame tanks available as options. The Super Squirrels remained, as did other favourites including the old-design 486cc standard Squirrel. Design improvements included modifications to the three-speed gearbox.
Harry Shackleton designed a new duplex frame for the 1926 racing season with thicker walled tubes. It weighed more than its predecessor, but it stiffened up the rolling chassis, giving better road holding and handling. Although Scott's IoM trip was disappointing, the frame was later adopted for road models and continued with only minor alterations until production at Shipley ended.
At the London Show the new duplex rolling chassis was offered with either 498 or 596cc engines, marketed as the Flying Squirrels. Rolling chassis apart, other modifications included larger radiator, increased brake drum diameter, revised exhaust system, transmission shock absorber and adjustable footrests. The familiar two-speed Super Squirrels, now sporting bigger brakes, were again on show with the option of a three-speed gearbox. The aging but delightful 486cc model remained in the catalogue along with two versions of the touring 596cc model – as a two-speeder or with the option of the three-speed gearbox.
During 1927, Scott struggled. Work's TT runners Langman, Mainwaring and Eric Langton retired in the Senior and financial problems surfaced. Vinter hoped establishing a few subsidiary companies in some major cities would ease the situation. Olympia Show models of the Flying Squirrels were updated, including taper tubes to lower part of the forks, revised exhaust system and optional wired-on tyres.
The Super Squirrels continued with three-speed gearboxes but the two-speed design was still offered and the older 486 and 596cc models were again still available, though production petered out during the 1928 season.
Believing they could win another IoM TT, work began on a new engine with slightly longer stroke than bore. Six riders were contracted. Well known trials rider Tommy Hatch finished a heroic third in appalling conditions while Harry Langman, in his last Island race, was 12th, having ridden most of the race without goggles. The Langton brothers and Ernie Mainwaring retired, while Syston Park regular G Limmer was a non-starter. Following the super human efforts of Frank Varey on a dirt-track Scott built from a crashed three-speed Super, Scott – influenced by Harry Langman – were encouraged to list a dirt-track model.
In an attempt to compete price-wise with the bigger factories, Scott rid their range of the old-fashioned 486cc two-speeder, 596cc Standard and the three-speed Squirrels, although the two-speeders remained at slashed prices. Trimmed in specification and offered with Webb girder front fork instead of Scott's own fork, the Flying Squirrels became the Flying Squirrel Tourers in 498cc and 596cc forms, their price pruned too.
Cashing in on their IoM history, Scott again offered TT Reps in 498cc and 596cc form with additional oiling to the cylinder wall, marketed for the first time as TT Replicas, which are today a favourite Scott for many. The catalogue was rounded off with the dirt-tracker.
Like many rivals Scott needed to secure every sale to keep afloat in the depressed late 1920s. For the first time they looked at an economy lightweight. After trying a Villiers proprietary engine in a modified twin-cylinder frame, Scott designed an air-cooled two-stroke 298cc engine and frame to suit. Prototypes proved troublesome, many problems were ironed out, but the 298cc Squirrel was never one of Shipley's best models. Using essentially last year's models with larger tanks Scott had a disappointing TT with five retirements and Hatch (13th) the only finisher.
For the 1930 season the 298cc Squirrel was offered for the first time and other models were updated. The TT Replica became the Power Plus TT Replica. The Dirt Track Model topped the price list along with a cracking newcomer, the Sprint Special. Shorn to the bare essentials, it was aimed at the privateer sportsman and the would-be high speed hooligan.
Harry Shackleton designed a radical new model for the 1930 TT. Unfortunately it was sidelined during practice due, it was claimed, to excessive vibration. The two works runners reverted to last year's models along with Mainwaring who had moved to Liverpool Scott agent and enthusiast AE Reynolds. All retired.
Branching out, the Trivan with 3cwt payload capacity and powered by the 298cc single engine was developed. Marketed by SAV Ltd, few were sold and it was dropped. In addition the 298cc engine in either air-cooled or water-cooled form was supplied for stationary use along with a water-cooled twin cylinder unit. Worldwide depression and the disastrous Trivan pushed Scott further down the slide to bankruptcy.
Despite an attractive London Show stand – including a lightened 298cc Squirrel to meet the revised taxation class weight limits – and the prospect of a 650cc twin engine, Scott were in trouble. Early in 1931 the official receiver was called in and Scott could have disappeared. However, thanks to the financial expertise of Reginald Vinter, who established Scott (Saltaire) Ltd in May 1931, and greatly helped by a cash injection from Liverpool Scott dealer and enthusiast Albert Reynolds who bought Scott Motors (Manchester) Ltd and much stock, Scott survived. Reynolds then opened a Scott dealership in Manchester.
A new catalogue was published mid-season listing their range of 500/600cc twins, though the 298cc Squirrel and the planned 650 were omitted. With the lightweight twins being dropped off and the launch of the Aero range of 500/600cc twins, Scott fans were thrust into times of change. Regardless of the feelings of some for these much heavier looking models the Aero with its Brampton front fork, twin headlights and Velocette foot-change mechanism attached to a Scott three-speed gearbox was a stylish, top-of-the-range motorcycle.
Albert Reynolds, having negotiated an agreement with Gordon Barnett, developed a sprung frame Reynolds Special along with a rigid version. Both were built at the Scott works and sported a revised winged logo from the Aero.
By the end of 1932 Scott appeared on a more stable footing and continued their range with updates, especially to the Power Plus engine. The main range comprised the Touring, De-Luxe, Replica and Sports with either 498cc or 596cc engines. Albert Reynolds again offered his Specials. For the 1933 TT, the ACU intimated the possibility of the return of a sidecar TT. Harry Langman planned to dust himself down as Scott's entry while Tommy Hatch would ride for Albert Reynolds. The idea was stillborn but Hatch was persuaded to ride a solo for Reynolds in the Senior, for – it was claimed – high speed demonstration purposes and finished 15th after a 99th hour engine blow up in practice. It was Scott's last appearance in a TT race.
Behind the scenes William Cull began work on a three-cylinder two-stroke water-cooled engine. With its 120-degree crankshaft and electron crankcases, the 747cc triple was built into a motorcycle which weighed 448lb. Albert Reynolds tried one and reports suggest he was delighted, but factory tester and consummate motorcycle sport all-rounder Allan Jefferies was less impressed. Although a number of prototypes were built, the 747cc three never went on sale and the Scott 1934 catalogue again comprised updated but familiar models.
A year on, the Scott range was pruned down to one model, the Flying Squirrel, offered with either 498 or 596cc engines, the later gaining the De Luxe label. As the London Show opened, Scott staff surprised many by wheeling in a 'show model' 986cc triple, which was developed from the earlier 747cc. But despite orders for the three, Scott had their eye on distant horizons – in fact the sky. The Saltaire factory developed a two-stroke twin engine as one of a number of power options for the Flying Flea, a cheap tiny aircraft based on the concept of Frenchman Henri Mignet. The Scott-powered Fleas flew well but after a number of crashes, the authorities revoked licences and grounded the project for good.
As the Thirties rolled on, Scott continued to offer the Flying Squirrel in two capacity options and although Albert Reynolds continued his association with Shipley he was now involved in the development of his own AER motorcycles, launched in 1937. Quietly, the 986cc triple was dropped from the catalogue for 1938 – it's doubtful how many production models were built, some sources claim eight, but there are survivors.
In 1938, Scott bought the 98cc Cyc-Auto design and rights from designer manufacturer Mr W Butt. Initially the machine had an engine designed by Butt, then briefly Villiers power. On purchase of the autocycle, Scott designed their own engine for the Cyc-Auto, referring to the units as Motor Assisted Juniors (MAJs). In early autumn 1938 the 596cc Clubman's model was announced, with options of rigid or sprung frame. The smaller 498cc engine was dropped and their 1939 catalogue detailed two models, the Flying Squirrel or Clubman's, each with the option of sprung or rigid frames. From being lithe slim lightweights Scott had steadily put on weight through the 1930s with the 1939 sprung frame Clubman's scaling in at almost 500lb.
After WWII Scott restarted motorcycle production with a girder front fork 596cc model but soon substituted the Dowty Equipment Ltd air fork. With updates the Flying Squirrel continued until late 1950 but sales were slow, as the Scott had become an expensive machine. Then late in the year a press announcement confirmed the Flying Squirrel would continue to be offered, but the manufacturer was to be the Aerco Jig and Tool Company of Birmingham, headed by long time Scott enthusiast Matt Holder. The machines from that time on are now known as Birmingham Scotts, to differentiate them from the earlier Shipley-built models.
The new flat top piston Scott Swift, pictured in 1958. Unfortunately, it never made it into production. Through the 1950s and into the 1960s, Birmingham Scotts slipped in and out of production, with designs based on developments of the Flying Squirrel. A new loop scavenge 498cc engine named the Swift with flat top pistons was developed and circa six prototypes were built but it never went into production. During 1963-64 Brian Woolley and Brian Bulmer were involved in a 344cc twin-cylinder two-stroke Scott racer project.
With all of Matt Holder's business commitments, production of Scotts could only continue in a very low key manner, with occasional small batches sporadically built. Odd experimental machines were built until as late as 1969 and it's likely the last production Birmingham Scott was built in 1972, by which time George Silk's project was getting under way.
Scott survival rate is good, while the keen club – which produces many helpful parts – makes Scott ownership viable for most classic enthusiasts. However, they are a machine you either love or loath – there's no grey area.