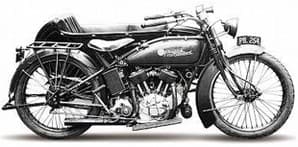 Ravat 1900 (1898)-1954 France
Established business whose enterprises included cycles from Usines de Monthieux, Saint-Etienne. Entered the motorcycle market by fitting pioneer clip-on kits to its sturdy cycles, although exact production start-date is unclear. Progressed to earn a sound reputation for well-made, quality machines in the 100 to 500cc categories. Often portrayed its larger models as luxury long-distance tourers.
Always used proprietary engines, including Blackburne and Zurcher in the inter-war years and Villiers and Ydral after WWII when it concentrated on lightweights, autocycle-type machines and mopeds. Were used by the military in a number of countries, including North Africa.
Raynal 1914-52 UK
Birmingham cycle maker, which built 269cc Villiers-engined lightweights in 1914 and again after WWI, when Precision two-stroke powered models joined the range. Although cycle manufacture continued, motorcycle assembly seems to have been suspended in the mid-Twenties and restarted in the early Thirties with 98cc Villiers Midget-engined economy lightweights.
Using the Jones design, in 1937 Raynal began autocycle manufacture with the single-speed Villiers Junior autocycle engine. Villiers Junior de-luxe
-engined autocycles briefly followed until production was suspended for WWII.
Autocycle assembly restarted after the war and in 1948 the horizontal JDL engine gave way to the almost upright 2F engined models. Autocycle manufacture appears to have ended in 1952 and the autocycle assets of the firm which once traded as Raynal Manufacturing Co Ltd of Woodburn Road, Handsworth, Birmingham 21, were sold by the Lanyar Manufacturing Co Ltd to Littlejohn's Motor and Cycle Works of Greenford, Middlesex. Some sources claim Raleigh took over the cycle side of the business but again ended production.
Reading Standard 1903-23 (1924) USA
From Reading, Pennsylvania, early models looked similar to the Indian 'Camel Back'. Thor (by Aurora) automatic inlet over side exhaust 'F' head engines were fitted in place of a segment of the saddle tube, while the curved combined fuel and oil tank sat above the rear wheel, doubling as a mudguard. The all-chain-drive machine, with selective drive in stages to the rear wheel, had two speeds.
In 1905, separate fuel and oil tanks were used, a side-valve V-twin engine appeared in 1907 and loop frame with leading-link front fork was introduced in 1909. A two-speed hub gear was first offered in 1911, then engine-housed clutch and reduction gearing a year later. The frame was lowered in 1914, and a three-speed gearbox appeared for 1916. Electric lighting followed and the engine was uprated in 1920.
The company tried ohv valve design for V-twins and singles and ohc racers for factory runners built to Cyclone design. After 1920 production slowed and in 1923 Cleveland took over the business, selling bargain buys assembled from old stock until sales dwindled and stocks dried up.
Ready 1924-39 Belgium
The Ready bore a striking resemblance to period British marques and used English JAP, Blackburne, Villiers and Rudge Python engines, along with Swiss MAG units. Initially marketed as the Ready-Courtai.
Redrup 1919-22 UK

Interesting neat little 309cc three cylinder side-valve 120 degree radial engine mounted in a typically early vintage motorcycle frame. The work of aircraft engineer Charles Redrup who with financial backing established Boyle and Redrup of Leeds to develop and build the engines.
The first complete motorcycles with Redrup engines were assembled by Monty Beaumont, also of Leeds. Then machines were badged Redrup Radial, but quite possibly still assembled by Monty Beaumont – Redrup and Beaumont were lifelong friends who were later associated together in other projects.
Finally, some were supplied as The British Radial, which was probably a marketing set-up rather than a manufacturer with an office in the Kings Road, Chelsea, London. It's possible as few as 150 or less engines were built by Redrup and total production of Beaumont, Redrup Radial and British Radial machines would have been no more. A reconstructed Redrup Radial using an original engine appeared in the 1987 Banbury Run and claims suggest two more machines may survive, one in Australia but neither have seen the light of day, so who knows?
Footnote: A further one-off Redrup-Radial built afterWWII by Charles Redrup and son John with reduced capacity of 250cc and engine set horizontally in 1930s Royal Enfield rolling chassis was restored in 2000 by Sammy Miller and Bob Stanley for display in Sammy's Museum.
Regal (Regal Precision) 1912-15 (?1909-15) UK
Birmingham maker Ernest Smith and Woodhouse built a range of single and V-twin models, often with Precision air-cooled or Greens-Precision water-cooled engines. Entered the IoM TTs 1912-14 with modest success but enjoyed much better results and some records at Brooklands, often ridden by Sydney Garrett. Peco-engined 225 and 349cc two-stroke lightweight joined the range in 1914. A modest number of attractive up to 600cc Precision-engined singles survive.
Rene-Gillet 1898-1957 France
Maker from Montrouge who began experimenting by motorising cycles as early as 1895 and according to some sources, was building motorcycles for sale by 1898. Early models had a small engine clipped over the front wheel which it drove with a twisted leather belt. By the early 1900s the motor was fitted within the frame, almost in the Werner position but with the cylinder barrel tipped back.
The first V-twins were offered in 1903, the V-twin engine design becoming a mainstay of the factory for decades. The 750cc side-valve V-twin with sidecar first went into military service in 1924 and was continuously uprated until production was suspended c1939/40. The model was offered for some time after WWII. Never considered as a great sporting factory Rene-Gillet gained a reputation for reliability earned by the up-to-1000cc V-twins. But lighter models were offered too, including a steady 346cc side-valve single.
Although continuing to build a few uprated side-valve V-twins for military orders and limited civilian demand after WWII Rene-Gillet concentrated on 98-250cc two-stroke lightweights, some finished in traditional French blue. Although for some post WWII Rene-Gillets are considered mundane, certain models sported
luxury features including coupled brakes operated by the front brake handlebar lever.
Republic 1899-1908 Czechoslovakia
An example of early branding to suit specific markets. The Republic was identical to and made by the famous Austro-Hungarian company of Laurin & Klement at Mlada Bolesav. As well as using the Laurin & Klement and Republic brands the name Slavia, often associated with their cycles was applied to home market models too.
Revere 1915-22 UK
Villiers-engined lightweights using 269cc single-cylinder two-stroke units with options of direct drive, two and possibly three-speed gear options assembled and marketed by Whitehouse & Co using Sparkbrook built rames.
REX 1948-64 Germany
Munich maker who first made 31 then 34cc two-stroke clip-on cycle attachments, which finally grew to 49cc. These popular, well made units exampled by the 34cc FM34 which was mounted over the front wheel with drive by belt, were well made and mobilised thousands of German workers after WWII.
REX went on to make 49cc mopeds and mofas including the Standard FM and Luxus FM50, both with 49cc single-cylinder two-stroke engines. Although renowned for their mopeds REX also built 122cc single-cylinder two-stroke motorcycles using British manufactured Villiers engines.
REX 1908-c1957 Sweden
Once prominent Swedish maker who began motorcycle manufacture by installing Swiss Motosoccoche engines into their own rolling chassis. Then developed their own small 2½ hp V-twin engine, which was dropped in favour of Villiers two-stroke engines and up to 750cc JAP units. During the inter war period their 100cc two-stoke lightweights gained favour and after WWII built a range of moped and light to medium weight motorcycles, using Husqvarna, Ilo and Sachs engines in the 50 to 250cc range.