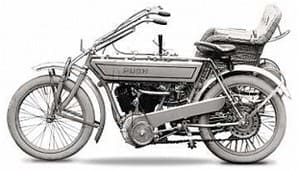 Puch 1903-87 Austria, 1987- Italy
Puch's history is somewhat complex. Born in 1862 Johann Puch, a cycle mechanic, set up his first business in 1889. Two years later he established the cycle making firm Johann Puch and Comp Fabriksmassige Erzeugung von Fahrradern in Graz. By 1897 the company had mushroomed and was bought by a German concern which later led to the Durkopp. Johann became a rich man.
Ever the businessman, Puch established another cycle making firm, Johann Puch-Erste steiermarkische Fahrrad-Fabriks AG in 1899. Early motorised transport experiments included a car prototype in 1901, but Puch's first production motor vehicle was a motorcycle in 1903. Car manufacture began in 1906 and before WWI Puch added lorries and steam railway locomotives. Johann died in 1914, by which time the Graz factory was employing 1200 workers.
Puch car production ended in 1923, although would later restart after amalgamation with other companies under different brand names. Hit by the depression of the late 1920s, Puch amalgamated with car, lorry, military vehicle etc maker Austro-Daimler (for whom Ferdinand Porsche worked for some years) in 1928 and former armament maker Steyr (Steyr-Werke AG since 1927) in 1934, another car and specialist vehicle maker.
Puch continued as Austria's leading motorcycle and later moped maker until 1987, when the motorcycle trade recession finally took its toll, leading the Graz firm to accept a merger with Italian giants Piaggio. Soon Puch production in Austrian ended and a Czech firm was licensed to make the famous Puch Maxi moped.
Puch's motorcycle production began in 1903 with a single cylinder tricycle, which was soon joined by a motorcycle. Within a year their leading model was the 23⁄4hp side-valve Model A.
Realising the need for publicity, Johann's new motorcycles were raced by factory riders in long distance events with much success leading the Graz firm to build pukka racing motorcycles, including a 905cc V-twin which was ridden into first and second in the 1906 European International Cup Race by Nikoden and Obruba.
The success of the Puch enterprise enabled the factory to invest heavily in engineering equipment and workshops. Although only a small part of the company's business, the Puch motorcycle range was enthusiastically developed with singles of up to 31⁄2hp and larger V-twins before WWI. Despite their Continental racing success the Graz factory had no joy in the IoM.
During WWI, Puch supplied basic 254cc and 308cc single-speed belt drivers to the Austrian military, both with Puch's own side-valve single cylinder engines, though experiments were made with gearbox options for the larger model, but it's unclear how many of these were commercially built for Austrian military use.
In addition to military motorcycles, the Puch factory was heavily involved with associated military work including armaments, which at the end of WWI left the Graz factory with a large work force but little work, as they were prohibited from making weapons. A rapid rethink led Puch to return to cycle, motorcycle and to a lesser extent car manufacture. Cycle designs were modernised and, although pre-WWI motorcycle designs were updated, work began on new concepts, including the later legendary splitsingle two-stroke motorcycle engine designed by Giovanni Marcellino, a concept Puch was to stick with for the next half century.
Puch unveiled their first split-single two-stroke in 1923, mounted in what appeared to be a heavy duty cycle frame. The launch two-speed 122cc model proved popular, despite The Motor Cycle describing it as 'a motorised bicycle.' Larger versions of 175cc and then 250cc appeared, gaining more gears and a sturdier chassis. The concept proved reliable and economic, and powerful for its size.
Through the Twenties and early Thirties, stripped down, race prepared two-stroke Puchs were campaigned with success across mainland Europe, the best result coming in 1931 as Elvetio Toricelli beat all the works teams – including New Imperial and Rudge – to win the 250cc German GP.
Strapped for cash, caused by the depression, Puch withdrew from racing, but DKW had learnt enough from their success to develop their famous screaming split-single racing Deeks, leading to many GP wins and the 1938 250cc IoM TT victory for Ewald Kluge.
Despite tough trading conditions, Puch continued to develop new models, including a 500cc two-stroke, in effect a doubled-up 250 giving a four piston split-twin. Business-wise, Puch amalgamated with the Austrian Daimler concern in 1928 and Steyr in 1934 to form Steyr-Daimler-Puch AG. The Daimler plant at Weiner Neustadt was closed, while the Steyr and Puch (Graz) factories were expanded – the idea being to manufacture cars, lorries, agricultural equipment etc at the Steyr factory, while the Graz plant continued to make cycles and motorcycles.
Fired with fresh enthusiasm, Puch developed new machines including four-strokes, the most ambitious of which – the side-valve horizontally opposed flat four – was unveiled in 1936. The flat four, along with 125 and 350cc split singles, were supplied to the Austrian military before WWII and then to the German/Austrian forces during the early part of the conflict.
After WWII, Puch continued with its range of split-single two-strokes, embarking on another export drive throughout much of Europe and models were later sold in North America – the well known trading brands Allstate and Sears were adopted for USA marketing.
A 125cc split single over-the-counter racer was developed, and sold in the UK by EMC, with, it was claimed, further development. It was first marketed as an EMC-Puch, and later an EMC.
Despite some criticisms, claiming these racers were all noise and no go, FH Burman was sixth in the 1952 IoM Lightweight 125cc TT and, later in the season, won his class of the Hutchinson 100 at a very wet Silverstone, beating the 125cc Mondial of Albert Fenn and Les Graham's works MV Agusta. Burman also set fastest lap at 67.77mph – not that slow then!
Scooters first featured in the Puch line up in 1952, with the 125cc split-single powered basic Puch R and better equipped RL. In a bizarre ploy, from 1954 models were sold to the Swiss Condor concern for re-sale in Switzerland. In 1955, the R model was dropped, but the electric start RLA joined the range. Models were revised in 1957, the R series replaced by the 150cc Puch Alpine SR150 and SRA150 with electric start, both having updated bodywork.
Puch attacked the moped market during the Fifties, with the launch of a pressed-steel framed model with some alloy detail castings housing a fan-cooled 49cc engine. Offered with differing gear options, the design – beginning with the MS50 – was also licensed to the Yugoslavian Tomos factory. Into the Sixties, the ageing split-single design still formed the base of Puch's motorcycle range – although dated, the product was sound. Models included the 175/250 SV, SVS and SGS plus new boys, the smaller 125cc SV and SVS.
Using the moped fan-cooled engine, Puch unveiled a small scooter named the Cheetah, offered in either 50 or 60cc forms, coded DS50 and DS60. It was offered in many versions, including a model with two sets of pedals – one each for rider and passenger! – although most Cheetahs had conventional kick start. Their final scooter of the classic period was the Pony (R50) in 1965.
Although motorcycle design appeared to be going nowhere, Puch were one of the leading ISDT entrants, winning Gold medals by the cart load. Well-timed, leaked rumours in the mid-Sixties implied Puch were developing many new models including, once again, four-strokes. Instead of big thumpers came the M125, unveiled at the 1966 Cologne Show. It was an instant winner. A single model was prepared for the 1967 ISDT, finishing top 125 and second overall in the event.
Development saw the basic engine design – with six-speed gearboxes – power roadster, sports and off-road motorcycles in capacities from 50 to 175cc. The 125 especially proved immensely popular and was used for trials mounts by British makers, including Greeves and Dalesman – although a high revving 125 is hardly ideal mud-plugging power – and was developed especially for motocross, leading to Harry Everts 1975 250cc world title.
Although production of the split-single continued and was updated in 1967 to give the 250SGS, Puch – like other North European factories – saw motorcycle sales slide. For the Graz company, mopeds were a survival plan, leading to the launch of the 49cc Maxi in 1968. Seemingly ordinary, the launch model automatic 1.8bhp Maxi took the world by storm and led to the development of many Maxi based mopeds, motocrossers, sports bikes, children's models and even three-wheelers. Some featured automatic gears, but others had kick start, gears, re-worked barrels and more.
By the mid-Seventies Puch were again feeling the pinch, which despite their success led to the withdrawal from motocross in 1977 to concentrate on roadsters. Many were based round the Maxi and its siblings, although a 75cc motocrosser and – following a tie-up with the Italian factory Friggerio – a range of up to 600cc Rotax-powered Puch enduro models in the late Seventies and early Eighties were produced. Recessions in the Eighties hit Puch badly, leading to a merger with Piaggio in 1987. Soon Austrian production of the Puch stopped although the Maxi continued, its design licensed to a Czech factory.
Many Puch models are attractive, quick, tough and well engineered. Much enthusiasm and spares availability exists for many post-WWII lines, and there is fair survival of earlier models.
Pullin-Groom 1920-25 UK
Cyril Pullin, 1914 IoM Senior TT winner (Rudge), was a man for unusual design. He started production of his unusual concepts with the Pullin-Groom, in association with SL Groom.
Although the Pullin-Groom 200cc two-stroke engine was conventional the frame wasn't, setting it apart from rivals. The main frame comprised two-steel pressings welded together housing the petrol and oil tanks, while the horizontally mounted engine was within the lower frame pressings, accessed for repairs by removable plates. The front forks were pressed steel as was the pivoted rear swinging arm, one side doubling as the full-enclosing chainguard.
Launched in 1921, the design was too advanced and possibly not powerful enough to gain many takers. The concept soon disappeared, re-surfacing in 1923 produced by The Pullin Motor Cycle Company, this time with a 310cc engine which was later upped to 348 and possibly 368cc. Main production years were 1924/5, of which there are some survivors.
Puma 1954 – C1962 Argentinia
Maker of mopeds and lightweight two-stroke motorcycles. Made in high numbers so survivors must exist, somewhere!
PV 1906 (1910) -25 UK

According to the advertising material published by PV makers Elliston & Fell, the business was established in 1906. Based in Perry Vale (hence PV), Forest Hill, London SE23, the first spring frame PV appeared in early 1910 and was later exhibited at the year's London Show. From then on spring fames were used for all leading PV models, later catalogues boldly claimed they were pioneers of spring frame design. True, but they were in the company of NSU, who tried spring frames a year earlier, ASL (c1906) and probably others, too.
The PV system comprised a curved saddle tube housing compression and rebound springs, to which the top part of the rear wheel loop was attached by means of a slider. The lower loop section pivoted on two bearings, located near the rear of the fork legs, enabling the wheel to pivot almost see-saw like about these bearings.
Using a range of bought-in components – including engines from JAP, Villiers, Barr & Stroud, Bradshaw and probably anything else the paying customer fancied – PV offered from the outset a wide selection of models, many built in small numbers. Often Brampton Biflex front forks were used and, while early models employed Armstrong and Sturmey-Archer hub gears, some later veteran examples boasted countershaft gearboxes, while Burman boxes were in favour after WWI. Direct drive was also available until 1921.