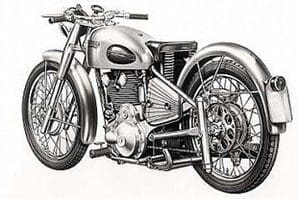 Parilla 1946-67 Italy
Of Spanish parents, Giovanni Parilla was born in 1912 in Southern Italy. The family later moved north, to Mantova, and by his teens Giovanni found himself in Milan where he started his first business, a garage, which went on to specialise in diesel pump service and became a wholesale distributor for German made Bosch sparking plugs.
As WWIl ended, Parilla considered motorcycle manufacture. His first prototypes designed by Ing Guiseppe Salmaggi were ready by autumn 1946 and debuted by Nino Grieco at Lecco. Based to some extent on traditional British ohc single cylinder racing design, the 246cc single featured bevel gear, split shaft and Oldham coupling drive to its single ohc, while a train of gears drove the magneto. Unfortunately poor postwar fuel pegged the compression ratio at 6:1, restricting power to just 15bhp at 6200rpm and 85mph.
In 1947 production of a sports roadster and an over the counter racer (the Corsa) with massive 260mm drum front brake and power increased to 18bhp, enough for 92mph, began. Branded the Parilla (Giovanni's surname less one 'r') development continued with the 100mph-plus 246cc Bialbero (twin cam) single, which appeared in 1948, developing 21bhp at 8500rpm. Again, the engine had a British look and lng Salmaggi made extensive use of electron, limiting its racing weight to 114kg (250lb).
Incredibly flexible for a competition engine, the 250 was enlarged to 350cc, which Nello Pagani debuted well at Marseilles until a camshaft drive sheared. Piero Cavacuiti took the 250cc class of the 1950 Milano-Taranto. Encouraged by the motorcycle and scooter boom in Italy, Parilla entered the road motorcycle market seriously with 98 and 124cc two-stroke singles in 1950, followed two years later by a 348cc ohv single and later in the year the first of what were to become their hallmark Camme Rialzata (hi-cam or lifted-cam) singles, the 175 Fox (174cc single).
Racing development continued, although this was now focused more on the hi-cam 175 than the dohc Corsa, which enjoyed a couple of GP placings ridden by works rider Nino Grieco. Parilla almost abandoned the Corsa project but examples of the 250 along with a 350 version were packed off to German development engineer/rider Roland Schell, who not only developed the engine further but also built – in conjunction with Parilla – a six-speed gearbox. Until the development of the NSU Rennmax and the like, Schell and Hermann Gablenz enjoyed much national German success against home grown 250/350 DKWs and imported 350 AJS 7Rs and Manx Nortons.
Hi-cam racing development was under the control of Salmaggi and his then assistant Alfredo Bianchi. The first prototype debuted at the 1952 Italian GP had the cam drive tower for the short angled pushrods on the engine's right side, but the later short lived dohc 125cc GP model had its camshaft drive on the left, as did subsequent road and racing hi-cam pushrod models. Parilla also developed an off-road programme for long distance trials, like the annual ISDT. Entries for the 1952 ISDT held in Austria included works racer Nino Greico and Angelo Menani on works 150s and renowned British lady trials star Olga Kevelos on a privately entered 150.
As well as performing at national level on the track, the hi-cam Fox led to the development of models including the superb 14bhp, 80mph Parilla 175cc Sport. With its distinctive left side mounted cam-chain tunnel and short angle pushrods, the Sport in turn led to the Gran Sport and the 100mph MSDS 175 Formula III motorcycles. Ridden by Giuseppe Rottigni, the MSDS 175 won its class in the 1957 Giro averaging over 60mph for the 1280-mile race.
Keen to diversify further into the roadster market, Parilla developed a 350cc ohv parallel twin and a pleasant 49cc two-stroke moped, the Parillino. Another example of Parilla's diversification was the Levriere (Greyhound) launched in January 1952 at the Milan Fiera Campioniara. Although not the prettiest scooter on the block, it was well engineered with a motorcycle-like low duplex frame clad in bodywork that channelled cooling air over the 125cc three-speed two-stroke engine. A 150 version joined the range a year later and as well as being part of Parilla's export drive to countries as far apart as the USA and Japan, the Greyhound sired a number of copies, including an HVA-engined Husqvarna (1955).
The Gennan Zundapp and Victoria factories took a hard look at the Levriere before developing the Bella and Peggy respectively. Although not the runaway sales success of Lambretta or Vespa, the Levriere helped Parilla become Italy's fourth largest two-wheel manufacturer during the Fifties.
If the Levriere was a bizarre looker by Italian design standards, the concept of the Slughi 99 (named after a breed of desert racing greyhounds) launched for 1957 was perhaps even odder with both scooterists and motorcyclists claiming it one of theirs! However strange it may appear, like all Parillas it was superbly engineered with a pressed steel spine backbone frame, pressed steel enveloping side panels, 17in wheels and initially a 98cc ohv engine. By the time production started the Slughi was offered with either the ohv unit or two-stroke 114cc engine. Offered in the USA as the Ramjet, complete with model of a jet plane on the front mudguard, it was soon joined by a naked version, the Olimpia.
Despite the volume sales success of the Fifties, Parilla – like many – was badly hit by the motorcycle market slow down. By the late Fifties Parilla had a new head designer, Ing Piero Bossaglia, who designed an all-new horizontal disc-valve engined 125cc single cylinder racer, debuted in 1960 but not fully developed for another five years, by which time it was outdated.
With the hi-cam engine stretched to 247cc with an eye on the American market for roadsters and super off-roaders like the Wildcat Scrambler (offered as a 125 too) that's almost the end of the story for one of Italy's most successful post WWII motorcycle manufacturers. But not quite! In 1964, riding a race-prepared 250, Ron Grant was placed second behind Alan Shepherd's MZ in the US 250 GP and in a four-stroke swansong, Norris Rancourt won a series of US national race victories out-running supposedly faster Yamaha TD1s on a race prepared 250 hi-cam single, built and superbly fettled by private owner Orrin Hall.
Parilla developed one more scooter, which never went into production, an elegant sophisticated electric start 160cc horizontal engined two-stroke twin with stylish slimline lines. In 1961 Giovanni Parrilla sold out to investment company SIL to avoid bankruptcy and with him went Parilla's heart. Gradually, production petered out with much of the parts stock going to US importers Cosmopolitan Motors of Hatboro, Pennsylvania who assembled some of the last Parillas in the USA after motorcycle production at Milan had ended. By 1967, motorcycle manufacture by the Italian company had given way to Parilla kart engine production.
Pasquet 1932-39 France
Aubier-Dunne engined 100/125cc two-stroke lightweights from Vers maker. Typically French and rare but odd examples do come on the market.
Paton 1955-present Italy
Truly the stuff of dreams. At the end of the 1957 season, by mutual agreement FB Mondial, Moto-Guzzi and Gilera pulled out of international GP racing; it had become too expensive, leaving a number of gifted racing engineers without a cause. FB Mondial chief racing mechanic Giuseppe Pattoni teamed up with FB Mondial designer Lino Tonti to create the Paton (PAToni, tONti). First off was a dohc 125cc single marketed to privateers in 1958 – Stan Hailwood bought one for 18-year-old son Mike, who gave Paton their first taste of international recognition with seventh in the 1958 125cc TT.
Tonti left for Bianchi, leaving Pattoni to develop the first Paton twin, a dohc 250 which scored a world GP series best place of third, ridden by Alberto Pagani in the 1964 250cc TT, behind Redman's Honda and Shepherd's MZ. With backing from Liverpool-based car and motorcycle dealer Bill Hannah, Giuseppe developed both 350 and 500cc dohc twins from this promising start. Arguably Paton's best years were 1967, when Angelo Bergamonti beat Agostini to win the 500cc Italian Senior Championship, and 1969 when British rider Billie Nelson finished fourth in the 500cc Rider's World Championship, and Paton fourth in the constructors side.
By the mid-Seventies, Pattoni had developed a four-cylinder two-stroke 500. In the early Eighties he suffered a setback when his long time helper and friend Gianemillo Marchesani died in a car crash, but regrouped as son Roberto joined him to continue work on racing motorcycle development. Roberto Panoni is now remaking the 60s GP machines, in very limited numbers.
Patria 1925-50 Germany
Hans May founded his motorcycle manufacturing business at Solingen in 1925, initially building 250/350cc ohv singles with Rocovanna engines. Production of these gave way to autocycle type lightweights in 1927. After WWII May introduced a range of well designed stylish lightweights with full suspension, launched in 1949 using proprietary two-stroke engines including Ilo and Sachs. Hans died suddenly in 1950 and his business soon closed.
Pebok c1903-09 UK
London maker of approx 250cc to 500cc machines with their own engines. A few survive.
Peco 1913-15 UK
Better known as a once leading maker of two-stroke proprietary engines from Birmingham, who also built some complete motorcycles. Their works were later taken over by Calthorpe. A small handful of post veteran Pecos survive.
Peerless 1913-16 USA
Boston maker of attractive single and V-twin ioe engined four-strokes, along typically American lines.
Note: The Peerless brand was used in the UK by two different makers. The first c1902-08 used approx 250-350cc engines with the main crankcase section brazed into the frame under the Birch patent in similar style to the Bradbury. The second company built small numbers of Veloce powered four-stroke singles just before WWI. Neither were associated with the Boston, America concern.
Pegaso c1956-64 Italy
Societa Italiana Motori (SIM) were quantity makers of attractive ultra-lightweights and moped-type machines, many with their own 48cc ohv engine. Examples have made their way to the UK via Italian specialist dealers. Motorcycle-type lightweights, ohv 48cc single, various gear options.
Pennington 1897 UK/USA
As only two were built by rights the Pennington shouldn't be included in this buyer's guide. But the tale is so fantastic it's worth repeating. Financial adventurer, businessman, con man, plausible salesman, charlatan and Yankee showman are a few of the descriptions penned by writers over the last century describing American Edward Joel Pennington. With impeccable timing, Pennington arrived on the fledgling motor and motorcycle scene to milk naive financiers and members of the public alike.
From Chicago one of Pennington's concepts was among the almost 100 entries for America's first motor race, from Chicago to Waukegan. Pennington's appropriately named 'hot air' motorcycle entered by Thomas Kane & Co, built by the Racine Motor Vehicle Co of Wisconsin, was one of the mass of nonstarters. In fact, only two vehicles lined up in November 1895 and six for the rerun – Pennington's hot air motorcycle was again not among them.
With that most useless of skills, hindsight, we may regard Pennington's machine along with those his rivals planned for America's first race as bizarre. But without the Lybe spring motor which expended energy on the flat and uphill and rewound on downhill sections, the kerosene motors of rifle makers Remington and CC Riotte, the compressed air and water-powered bicycle of New Yorker Lewis B White, the Twombly ether motorcycle and of course Pennington's ideas, would we have been pointed in the right direction of the internal combustion engine so quickly? However, while many would-be inventors plied their skills for fun, the advancement of knowledge and the pleasure of invention, EJ Pennington planned to make money. Big money.
Pitching up in the UK during 1896, Pennington began promoting his new motorcycle. With its long mingling spark ignition to ensure full burn and ability to use any fuel – even kerosene, combined rear-wheel-cum-flywheel and self-cooling cylinders where the incoming evaporating fuel vapour cooled the cylinder base which then drew heat from a combustion chamber, the Pennington seemed too good to be true. And it was. Although two were built and at least one ran briefly for demonstrations, it wasn't a proven design.
However, EJ sold the patents for a claimed £100,000 to a group of companies launched by financier Harry Lawson, and even promised to oversee the design into quantity production. Once it all started to go wrong, Pennington grabbed his cash and the fast boat back to America, where it's claimed he later died penniless.
Peripoli 1957-80 Italy
Another brand name for the Giullietta marque, which was also sold briefly in the UK by and under the name AJW. Maker of mopeds and tiny lightweight motorcycles including motocrossers and sportsters powered by Sachs, Morini and Minarelli two-stroke engines. Also sold in Italy as the Peripoli and, re-badged during the mid-Seventies as the AJW, in the UK. Pretty lightweights typical of their period, which perform well but don't, as yet, command even moderate prices.
Perks and Birch 1899-1901 UK
Originators of the automatic inlet valve motor wheel, manufacture of which was taken over by Singer in 1901. This neat unit was used to power two, three and four-wheeled vehicles.
Perugina 1953-62 Italy
Factory from Castel del Piano who built a range of 125-250cc two and four-stroke machines with their own engines. Designer and proprietor Giuseppe Menicucci had built his own range of machines in the vintage era under the BMP brand. Perugina are a rare but occasional find, attractive but pricey for what they are.
Peters 1919-25 IoM and England
Don't know of any survivors, but included as one of few brands built in the Isle of Man, although production later moved to London. Early models used Peters' own 350cc two-stroke engine which, along with a thick wall tank and large diameter saddle tube, comprised the main frame structure. Other novelties included cantilever rear suspension and gearing by variable engine pulley while the back wheel moved to and fro controlled by foot pedals to maintain belt tension. Later models powered by Villiers and Blackburne engines looked more conventional – but not much!