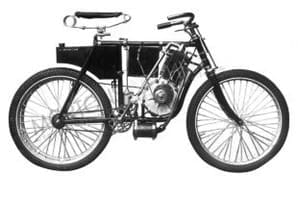 Olmo 1951-c1961 Italy
Production began using Mosquito clip-on units mounted under the pedal crank of suitable cycle frames and then moved into moped production using 50cc proprietary units.
Olympic 1903-05 and 1919-23 UK
Wolverhampton cycle-maker Frank Parkyn, who displayed MMC-powered motorcycles at the 1903 Crystal Palace Show, restarted production of lightweights after WWI using variously Verus, Orbit and Villiers two-stroke engines and small-capacity JAP and Blackburne units. He built a cut-price range branded New Courier. I don't know of any survivors but Parkyn's work survives in his factory-built proprietary frames or rolling chassis for rivals, and possibly even complete machines bearing the customer's brand.
Olympique 1922-58 France
Courbevoie factory, which began production with 98cc Zurcher-engined two-stroke single-speed lightweights, then enlarged their pre-WWII range to 350cc, using a range of predominately Zurcher two and four-stroke units as well as small-capacity JAP four-stroke engines. After WWII their range centred on 123cc-248cc two and four-stroke models, often with AMC units, and a 123cc two-stroke scooter. It became part of the Alcyon group.
OMC 1930 UK
It is doubtful that any of these 172cc Villiers-engined trials models survive but they are mentioned as they were the brand name used by Len Vale-Onslow's SOS business for off-road models. Confusingly Officine Meccaniche Calabresi used identical OMC brand initials for their ohv 174cc Giovanni Ladetto-designed lightweights built in limited numbers 1933-35. Again, it is doubtful that any survive.
Omea 1950-53 Italy
Fascinating 124cc two-stroke lightweights designed by Carlo Bottari with cast alloy frame, leading link front fork and swinging arm rear suspension, in some cases of monoshock design.
Omega 1919-27 UK
Best to clear the confusion first. Two other motorcycle marques used the Omega brand. In 1909, AJ Dorsett, a partner in DH&S Engineering later DF&M Engineering (Dorsett, Ford and Mee) makers of Diamond motorcycles, Wolverhampton, built a small number of 1.5hp horizontal-engined lightweights branded Omega. And Kawasaki coined the Omega brand for models sold in the USA during the Sixties.
Although Premier of Coventry continued in business until 1921 making three-wheelers, their last motorcycles, a batch of 499cc single-speeders, were supplied to the Russian and allied military c1914-15, leaving general manager WJ Green at a loose end. Still keen to build motorcycles, Green established Omega in 1919, again in Coventry. Early models were built round 269cc Villiers two-stroke and side-valve Blackburne engines. Later, Barr and Stroud sleeve-valve, Bradhsaw, ohv Blackburne and JAP single-cylinder and V-twin engines were employed, along with Omega's own 175cc and 348cc two-stroke units.
In 1925 Omega added JAP-powered three-wheelers to their range, a racing version of which took six world speed records in 1926. Further confusion exists in the car world as a Seine, France car builder traded as Omega from 1922-30, building Gadoux-designed ohc two and three-litre six-cylinder cars, some of which raced at Le Mans.
Although Omega traded for only eight years, survival is good, especially among the lightweights, and a few handsome Omega three-wheelers are in private hands, too.
Opel 1901-30 Germany
The company was founded in Russelsheim by Adam Opel to manufacture sewing machines and cycles. Adam died in 1895, the business passing to his sons, who bought the established Lutzmann car business in 1898, transferring manufacture from Dessau to Russelsheim. The first Opel cars were marketed as System Lutzmann. By 1900 they began importing Renault and Darracq, which they built under licence, and further expansion led to the first of a number of forays into the motorcycle manufacturing world.
From 1901-07 Opel offered a small range of 1.75-2.75hp singles, early models little more than motorised bicycles, but the Russelsheim firm continually improved design, including front suspension with leading link forks on offer in 1906. Motorcycle production then stopped until after WWI but car development continued, with their massive range encompassing models of up to 10.2 litres.
Just before WWI, Opel designed a 138cc outside flywheel side-valve clip-on attachment to be mounted on the left side of the rear wheel of a bicycle. Manufacture didn't start until c1921. In 1922 came a complete 148cc ioe two-speed motorcycle with outside flywheel and valves to the front of the engine. Small 204cc ohv watercooled racing singles with torpedo-shaped fuel tank were built for factory riders Fritz von Opel and Philipp Karrer.
In 1926 a side-valve 498cc single with tubular steel frame was unveiled, and two years later this rolling chassis was offered with a 498cc ohv engine. From 1928 these models were offered as the Motoclub, with the option of what look like pressed steel frames designed by Ernst Neumann-Neander and produced in the ex-Elite-Diamant car factory by Opel. These frames were identical to the Neander chassis, complete with rocking action front fork, although the original Neander frame was of Duralumin section coated in cadmium plate.
General Motors of Detroit, USA, who had taken over Vauxhall in 1925, took control of Opel in 1928, leading to the end of motorcycle manufacture in 1930 to concentrate on car production. A moderate number of Opel motorcycles survive, but these are highly prized and priced accordingly, especially the Motoclub models.
OPRA 1927-29 Italy
These are an unlikely inclusion in our guide as the company built just a small number of transverse four-cylinder racers, quite possibly a world first. But they are included for what they started. Renowned designers Carlo Gianini and Pietro Remor designed the 32bhp at 6000rpm air-cooled ohc racer built under the title OPRA (Officine di Prescisione Romani Autombilitistiche).
A water cooled version delivered a claimed 30bhp. It is widely believed Carlo Guzzi took a long hard look at the OPRA before designing his first transverse four-cylinder racer, which made brief test appearances at Monza in 1931-32 and which raced just once before being shelved in favour of the 500cc V-twin design. The concept resurfaced c1934 as the Rondine, again designed by Gianini and Remor but with supercharging and full water cooling. It was built this time by Compagnia Nazionale Aeronautica in Rome with finance from Count Bonmartini.
Gilera bought the design in 1936 and raced it successfully until WWII, developing it further into the normally aspirated 500cc World Championship-winning mounts of Umberto Masetti (1950 and 1952), Geoff Duke (1953, 1954 and 1955) and Libero Liberati (1957).
Orbit 1913-24 UK
AJ Dorsett of Diamond again! (see Omega) This time production started in Wolverhampton with a typically veteran period-styled 346cc single. After WWI came a 261cc two-stroke lightweight later supplemented with Barr and Stroud, Blackburne and Bradshaw proprietary engined models. Although output was modest, a number survive.
Oreol 1903-14 France
This is another machine which shouldn't be included as it is doubtful many survive, but they are a significant marque in our history. The Vers factory built worthy Zedel, Moto-Reve and MAG proprietary engined roadster singles and V-twins but it was their record breakers that earned their place in history. Henri Cissac, the renowned international cycle track racer and world record breaker, usually with Peugeot motorcycles or at least Peugeot power, took a 333cc Oreol on an impressive record-breaking spree in the then popular one-third litre class with professionalism the like of which hadn't been seen before.
Orial 1919-27 France
This Lyon maker was tightly linked to, and possibly funded by the Swiss MAG factory, who built machines under licence. MAG also had a subsidiary factory in Lyon which, again, was tied in with Orial. Odd survivors command substantial prices, as do other MAG-engined machines.
Orial 1929-31 Germany
In 1903 Triumph Coventry established a subsidiary factory at Nurnberg to build motorcycles using predominantly Coventry-made parts, which later adopted the TWN (Triumph Werke Nurnberg) brand name.
During 1929 the two factories split, with the German operation offering their own range 198cc-294cc twostroke models using their own engines and a range of MAG-engined four-stroke singles and V-twins.
TWN gained a licence to build MAG engines in Germany. As a big volume producer they needed export trade to keep stock moving and used the Orial brand on export models to selected markets from 1929-31, after which the TWN brand was used for all models. A number of German-built Orials survive; they are in every respect identical to the TWN.
Orient 1900-06 (1910) USA
Built by the Waltham Watch (Manufacturing) Co and designed by Harry Metz, the Orient was as practical as a pioneer motorcycle could get in 1900. Unfortunately the design wasn't sufficiently updated, leading to dwindling sales. They comprised Aster automatic inlet over mechanical side exhaust valve 247cc-300cc engines with trembler coil ignition and an advanced (for the period) spray carburettor mounted behind the headstock of a special frame built along cycle lines. A number of examples survive in the USA, at least one in the UK and another in Belgium, which isn't surprising as, along with tiny Mitchell stationary engines, the Orient was imported into the UK c1900-03.
Origan 1929-50 France

Origan from Fontenay-le-Comte was an assembler of proprietary parts rather than a manufacturing factory. It built serviceable up-to-350cc lightweights, often with Aubier-Dunne and later French AMC engines. They were never truly exported but barn-weathered survivors turn up, often modestly priced, at European autojumbles.
Orion 1902-33 Czechoslovakia
Another long-forgotten factory that is part of the fabric of our motorcycling past. Engineer, designer and factory boss Vilem Michl produced a staggering range of highly advanced attractive single and V-twin motorcycles in the pre-WWI period, with help from his sons, bearing the brand Michl 'Orion'. After the war son Zdenek was often responsible for design advances which included larger capacity two-stroke singles, twins and up-to-600cc split single models. Later machines had 500cc/600cc side-valve single and ohv engines with Germanic styling. The factory enjoyed much racing and off-road success, riders including designer Zdenek Michl, Vaclav Liska and Jarda Melzer.
Along with other such factories following the end of the East/West European divide, Czech Orions have trickled on to the market but are highly prized.
Orix 1949-54 Italy
Orix was a small maker from Alessandria which built a range of up-to-175cc Ilo two-stroke engined motorcycles and scooters.
Ormonde c1900-05 UK
Another forgotten but important marque from our early history, Ormonde were involved from the late Victorian period experimenting with motorcycle design using first de Dion and de Dion clone engines, then later Antoine and Belgian Kelecom units. Ormonde tried the engine in various positions on the motorcycle, including between the saddle down tube and rear wheel, before settling on the within-the-frame diamond position.
Ormonde, who had been tied up with the import of Kelecom (spelt Kelekom by some) into the UK, filed for bankruptcy c1904. The entire assets were bought by cycle makers Taylor Gue. Taylor was John Taylor, the adopted name of Johannes Gutgemann, better known as John Goodman of Veloce/Velocette; Gue was William Gue. The partners adopted the trade name Veloce for their new machine but continued to market the old Ormonde machine until c1905. While this enterprise soon collapsed, Gutgemann (Taylor) formed another partnership with a Mr Williams, Veloce Ltd, making the Ormonde a direct antecedent of Veloce and Velocette. A handful of Ormondes survive, most with Kelecom engines.
Osa 1958 Poland
Scooter brand of one of Poland's once leading motorcycle makers WFM – Warszawska Fabrica Motocyklowa. Scooters offered with 125cc or 175cc two-stroke engines. Despite their relative rarity in Western Europe, they remain inexpensive.
Osa-Liberty 1926-35 France
Tidy 350/500cc side-valve and ohv single-cylinder machines with JAP engines built under licence in France by Staub. The Argenteuil works also built 173cc/246cc two-stroke lightweights with their own engines.
Oscar 1965-82 Italy
Sporting, 49cc-100cc Franco Morini-engined lightweights built in small S. Andrea di Sesto factory. Not to be confused with the tiny number of prototype 122cc/197cc Villiers-engined Oscar scooters built by Projects and Developments Ltd of Blackburn.
Osmond 1911-24 UK
A small Midlands maker, owned and run by James. Production began with Precision engined solos, then ultralightweight autocycle-like machines with Simplex power after WWI, and finally lightweights with their own 239cc two-stroke engine. Survivor numbers unknown but included here due to the James link.
Ossa 1951 (1949)-85 Spain
Former merchant navy officer Manuel Giro began motorcycling in 1924 with an American two-stroke Cleveland. Later, after establishing the successful cinema equipment business – Orpheo Sincronia SA – Giro took up power boat racing and then in the early Thirties, on a claimed ex-works CS1 Norton, motorcycle racing. A BMW followed which later had its engine replaced by a six-cylinder 998cc ohc Soriano unit before Manuel took up sidecar racing, becoming Spanish champion.
By then a leading industrialist, Giro managed to keep his company afloat during the Spanish Civil War and the lean times through WWII. Not forgetting his love for motorcycling, Giro designed a 125cc single cylinder twostroke engine after the war, which he claimed he gave the design of to Montesa and they used it in their first production model.
Inspired by his young son Eduardo's passion for all things mechanical, Manuel designed another 125cc two-stroke engine in 1949, which powered his first motorcycle. Named the Ossa, production of the 47mph, 123.6cc three-speed lightweight began in 1951.
From this an ISDT version was developed and through the Fifties the 125 was continually updated. A larger 149cc model was launched in 1958 along with a 175cc four-stroke – GT175 – styled like an Italian motorcycle. In 1959 came a sporting 125cc two-stroke, tagged the 125C with an attractive double cradle frame, 18in wheels and lightly tuned engine. This was followed a year later by the more highly tuned C2. Stripped of tinware, both models found their way onto race tracks in the hands of privateers, but with only very limited factory help.
In common with many European rivals Ossa hit bad times in the early Sixties but for the Badel factory it was perhaps a turning point. Eduardo Giro, with a love of things mechanical, a doctorate in engineering and experience of designing and building his own engines over the best part of a couple of decades, including a model aero engine which revved to 18,000rpm he built as a teenager, joined his father in business. Eduardo's first complete design for Ossa, unveiled in 1962, was a 158.53cc single cylinder two-stroke. From this came the 175cc (1965), 230cc single (1966), 488.58cc twin (1972), 244.29 and 310cc singles of the Seventies.
Wheeling out two lightly modified 175cc roadsters at their nearby Barcelona 24hrs race in 1965 Ossa earned the mirth of their rivals. No hopers with no chance, they said. Then, Pedro Millet and Luis Yglesias duly won the 175cc class with their team-mates second. More places and wins, along with capacity upped to 230cc, enabled Ossa to win the 1967 Barcelona 24hrs outright with Carlos Giro and Luis Yglesias logging a record 662 laps in the 24 hours, a record which stood for some years. The following year outsider Trevor Burgess squirted his Eric Housley entered 230cc Ossa to victory in the 1968 250cc Production TT at 87.21mph ahead of a van load of Bultacos, Suzukis and Ducatis.
Against this background of race preparing roadsters, Eduardo Giro began work on a 250 GP racer in 1966. Unable to afford multi-cylinder technology, Giro opted for a 249cc six-speed two-stroke ultralight single with minimal frontal area. Weighing just over 215lb it developed over 40bhp at 11,000rpm but proved unbelievably flexible for a two-stroke, with the power coming on strong at 6500rpm. In its first race Carlos Giro was sixth in the Spanish GP. Hiring 250cc Spanish champion Santiago Herrero to act as a development rider helped iron out problems.
Giro was fourth at the 1968 Spanish GP while Herrero moved to third in the season closing Italian GP, and with additional places Santiago was seventh in the title chase and Ossa fourth in the Constructor's title. The following season saw Herrero win the Spanish, French and Belgium GPs and finish third in the IoM TT. Then, after a second in France and a win in Yugoslavia, Santiago Herrero died crashing near the 13th milestone in the 1970 IoM TT and with him Ossa's GP racing programme perished too. Having lost his valued colleague and friend, Giro had no heart for racing.
But this wasn't the end of competition Ossas. During the late Sixties with an eye firmly on the American market they became involved with dirt bike racing. In addition to the racing programme, Dr Giro developed a range of offroad motorcycles. Success wasn't instant, leading Ossa to hire 23-year-old Briton Mick Andrews as works rider and adviser. Working at the Ossa factory, by then based on the outskirts of Barcelona, Andrews first set to converting a trail model into a trials machine; results were mixed but it was a stop-gap until the first pu
kka trials models were built.
In 1970 the Mick Andrews/Ossa team won the first of three consecutive Scottish Six Days Trials and then went on to win the 1971 and 1972 European Trials Championships. Near replicas were rapidly on offer as the Ossa MAR (Mick Andrews Replica) with the factory building 300 models per month at peak production of the replica. It continued in production with modifications until the late Seventies. Unhappy with the way the MAR programme was going, Andrews left Ossa for Yamaha.
During the mid-Seventies, Ossa were beset with problems including strikes and although a new Ossa 350 (310cc) trials model was launched by 1978 Ossa were in serious financial straits. Despite backing from the Spanish Government and further help from Mick Andrews, Ossa were on the slide. Volume production of trials machines ended in 1983 although odd very small batches were still made but the new Ossa Urbe couldn't save the day. Ossa folded in 1984 and then relaunched as the worker's co-operative Ossomoto, which folded in late 1985.
Throughout their 34-year production run Ossa didn't make a truly bad or poorly engineered motorcycle. Regardless of whether your passion is off-road, roadster or production racer, Ossa has something for you which is different. Enthusiasm abounds for the marque and many spares can be sought or are being offered as replicas but you may have to hunt some out.
Otto 1921-37 Germany
Another brand name used intermittently during 1921-37 for motorcycles built at the Flottweg factory in Munich. Flottweg, who often built their own engines, also fitted JAP units and was bought out by the nearby BMW works in 1937 bringing to an end the use of the Otto logo.
Overseas c1909-15 UK
Birmingham firm, who built side-valve single cylinder and V-twin motorcycles with their own engines. As the name implies the business exported motorcycles as well as marketing machines in the UK. A few 500cc singles survive. A 3½hp Overseas, dating from 1913. Unusually they built their own engines.