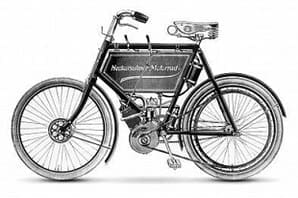 NSU 1900-1965 Germany
Heinrich Stoll and Christian Schmidt started their knitting machine (Strickmaschinen) repair and manufacture business in 1873 at Riedlingen, a Danube island town. A year later the flourishing enterprise moved to larger premises at Reutlingen though Christian and Heinrich dissolved their partnership c1880.
Schmidt relocated to Neckarsulm, again repairing and making knitting machines – under the company name Neckarsulm Strickmaschinenfabrik – but he longed to manufacture cycles. Aged 39, he died in the mid-1880s and his brother-in-law, G Banzhaf, took over a business that continued to thrive and diversify.
In 1889 the company built their first production batch of cycles and, in 1892, changed the company name to Neckarsulmer Fahradwerke (bicycle works); knitting machine manufacture slid into the background. The manufacture of complete cycles and proprietary parts for other companies thrived and, significantly, the company adopted the brand initials NSU.
By 1900 NSU were successfully experimenting with clip-on powered cycles, and motorcycle manufacture began in 1901 with a 1.25hp model comprising a Swiss Zedel (ZL) engine, sloped within the frame, directly driving the rear wheel by belt. A year later the machine became a 'motorcycle' with its larger, 1.75hp Zedel engine mounted vertically within the frame.
Trained by Gottleib Daimler, Karl Schmidt, Christian Schmidt's son, joined NSU as technical director, designing and overseeing production in 1903 of NSU's first in-house engine. This superb 329cc single-cylinder four-stroke unit was installed in more than 2000 NSU motorcycles during the next two years. A V-twin and further single-cylinder engines soon followed and, in 1905, NSU unveiled their first racer, a 50mph (80kph), 5bhp, 402cc model. NSU established an import company in Britain, too.
German military contracts were secured for a number of early models, including a 482cc single in 1904, 190cc single and a 499cc V-twin in 1914, and a larger 994cc V-twin a year later. Although bicycle work remained the company's backbone, powered three-wheelers joined the range and, in 1905, cars, beginning with the Belgian Pipe, built under licence. Karl Schmidt left in 1910 to establish his own components factory, later becoming Karl Schmidt GmbH, which became one of Germany's largest engine components companies.
Despite losing their export market, NSU survived to return to motorcycle and car manufacture after WWI, soon employing thousands of workers with the world's first modern motorcycle production assembly line. It was a flagship example of modern manufacturing techniques copied by much of German industry. Profits from the motorcycle division financed an update of their car production lines, but this side of the business passed to Fiat as NSU struggled to survive fall-out from the 1929 Wall Street Crash.
Despite this setback, NSU remained one of the world's leading motorcycle manufacturers and, also, built the prototypes of the Ferdinand Porsche-designed Volkswagen Beetle in the mid-1930s. British engineer Walter Moore, designer of the first ohc racing and roadster Nortons, joined NSU in 1929 and began updating their range. Realising the need for cheap transport in the cash-strapped early 30s, NSU unveiled their tiniest motorcycle yet – the Motosulm; its 63cc, two-stroke, single-cylinder engine mounted over the front wheel of sturdy, cycle-like rolling chassis. Selling well, the tough ultra-lightweight supplemented NSU's income from the sales of their larger singles, including the 201/251/351/501/601 OSL, 315 OS, 501/601 OS models.
NSUs were raced in both solo and sidecar form, with national and some international success for riders including Tommy Bullus, Ted Mellors, O Steinbach, J Mellmann and Heiner Fleischmann. Walter Moore unveiled his first two-stroke, the 98cc Quick, in 1936. Variants included ladies' and military versions. During the 1930s, NSU's annual motorcycle production often topped 50,000 per year, peaking at almost 63,000 in 1938. New, supercharged, dohc parallel twin racers appeared in the late 1930s; first the 125mph 350, then a 500cc version.
As WWII approached, NSU supplied 562cc ohv single-cylinder 601 OS adapted roadsters for military solo and sidecar duties, followed by the 98cc Quick and 122cc 125 ZDB lightweights. The Neckarsulm factory also supplied military aircraft parts and what, at first sight, appeared one of the more bizarre vehicles of WWII: the 1478cc Opel-engined Kettenkrad, a cross between a tracked open personnel carrier and a motorcycle.
Despite the allies insisting German heavy industry be dismantled after WWII, NSU restarted motorcycle and bicycle manufacture as the war ended. In the final months of 1945, around 100 Quicks, 75 Kettenkrads, a handful of ohv 250s and almost 9000 cycles were built. The Kettenrad continued until 1948 – some for the American Forestry Commission – while cycle, cycle component and motorcycle manufacture expanded. In 1948 NSU built almost 60,000 cycles, 300,000 pedal cranks and more than 9000 motorcycles comprising the pre-war designed 125 ZDB, 251 OSL and 6000-plus Quicks.
Walter Moore left NSU and Germany as WWII began, and after the war gifted engineer Albert Roder became NSU's chief designer. Although they continued with updates of pre-WWII models and even reintroduced further 'modernised' old favourites, including the 351 OSL, new models were planned. In 1948 Roder unveiled his all-new Fox 4, comprising an ohv 98cc lightweight with pressed steel chassis.
Later came a racing model, the Sportfox – initially for factory use only. And NSU forged links with Italian scooter makers Innocenti to build the Lambretta Type C using Volkswagen bodywork pressings and Innocenti engines. Production began in 1950.
Gradually yesterday's heroes were replaced by new designs or radical updates of older models. In 1951 the four-stroke Fox 4 was dropped in favour of the 123cc two-stroke Fox 2, the solid 349cc ohv Konsul I and 498cc ohv Konsul II were derived from the old 351 OS-T/501 OS-T, and the year's newcomer was the 198cc Lux 201 ZB. The well-engineered Konsul range was, in style terms, obsolete for many customers' tastes but the spine-framed Lux was a sign of things to come, as was NSU's enthusiasm for nurturing a race team again.
In September 1952 NSU announced the sophisticated 247cc ohc Max single, its camshaft driven by strap-like connecting rods with eccentrics. Named by NSU/Albert Roder as the Ultramax system, the idea was nothing new – Pomeroy had tried it at Vauxhall after WWI and WO Bentley fitted it to his six-cylinder cars c1924-30, but the Neckarsulm team engineered their design to perfection. The concept was used in other models, including the Supermax and racing Sportmax. Launched in 1953 to replace the Quick after a 235,000 plus production run, the world-beating Quickly moped range began with the Quickly N.
Away from roadster development, NSU rapidly grew their race programme, which took the established world by storm. Roder uprated the supercharged pre-WWII 350 twin to 500cc then, in addition to the race conversion of the Fox roadster, came the unveiling of the dohc four-cylinder 495cc (54 x 54mm) R54 in May 1951, followed a month later by the 123.67cc (again 54 x 54mm) 14bhp Rennfox. In May 1952, NSU race debuted the 125cc with a six-man team and then surprised the world, wheeling out the Walter Froede-designed 247cc dohc Rennmax twin.
Later in the year, the NSU race team was joined by an almost unknown rider, Werner Haas. An ideal lightweight racer, Haas was a small, tough jockey who exploited the Rennmax and Rennfox to their full potential. To become world champions, NSU set up a 40-personnel race team with dedicated development facilities and a trackside support team that wouldn't look out of place today. NSU pioneered the use of pre-race engine heaters to keep the engines warm while on the starting grid. The world had neither seen nor could compete with this degree of professionalism.
In June 1952, Haas won the 125cc German GP and later finished second to Enrico Lorenzetti's Moto Guzzi in the 250 class at Monza. The following season, Haas completed his and NSU's first World Championship double (125 and 250 classes). He finished second in both the 125 and 250 classes at the IoM TT, despite a heavy crash in practice. His IoM mentor, Bill Lomas, was sidelined by a more serious crash that ended his association with NSU. Irishman Reg Armstrong was second for NSU in the 250 title chase.
In 1954 Haas again won the 250 world title with Austrian Rupert Hollaus second and West German veteran Hermann Muller third. Hollaus won the first four rounds, including the IoM 125ccTT, and was later posthumously awarded the 125cc title after losing his life on the Lesmo Curve, Monza, during practice.
Race team costs, combined with worries about sliding roadster motorcycle sales, probably fuelled NSU's decision to retire from the GP arena in October 1954. However, in the background NSU had developed the Sportmax 'over-the-counter' racer. With factory backing and preparation, HP 'Happy' Muller took the 1955 250 world crown despite winning only one GP as Bill Lomas (MV Agusta) was eliminated from the results of the Dutch GP despite crossing the line first – he hadn't stopped his engine while refuelling.
NSU continued to update their motorcycle range with the 175cc Maxi and revised 125 Super Fox with ohv engine in place of the two-stroke unit. There was an ongoing and successful scooter programme, which included the Lambretta-inspired 125 (1950-54) and 150 (1954-56), NSU's interpretation of what a Lambretta ought to be in the Prima D (1956-8), the totally redesigned luxurious 174cc Prima Funfstern – Five Star or V (1957-60) – and the simpler 146cc Prima 111K (1958-60) that was later offered with an electric start option, or the more basic KL (1959-60).
Falling popularity of the motorcycle in Germany and legislation to ban scooters from the autobahns may have conspired to encourage NSU to look at cars again, and production began in 1958. However, cars were to be NSU's undoing as they became involved with Felix Wankel's development of the rotary engine that, in concept, had been with us since 1886. The last Supermaxes were built in 1963, as were the last cycles; Prima scooter production struggled on until 1964; and the last Quick 50 sports mopeds left the production line in 1965.
Although highly acclaimed, the twin rotor NSU Ro80 car launched in 1967 cost the company dearly and, in March 1969, the then Audi NSU Auto Union AG was integrated into the Volkswagen Group. Although NSU's motorcycle production ended, its spirit lives on. Smitten by the NSU race team, Soichiro Honda vowed one day his company would be awesome professionals like NSU. He also admired NSU work and production practices, plus the design lines of the Max and its derivatives. Incorporating and improving selected Neckasulm concepts and ideals inspired the Honda Dream series and helped Honda develop its race team – small but important steps that led Honda to become the world's leading motorcycle factory.
Enthusiasm for NSUs abounds within club circles, among parts dealers for later models and specialist engineers/rebuilders for these superbly engineered machines. Models from the early days to the end of production survive and are offered for sale. If you fancy an NSU, the choice is governed by your desire and what's in the piggy bank.
NUT 1912-33 UK
As early as 1906 Hugh Mason dreamed of his ideal machine, and then persuaded Wallsend-on-Tyne cycle dealer Jock Hall to build it. Bearing his monogram 'HM', the first special comprised an MMC engine with a countershaft and chain-cum-belt transmission. More models followed, Mason placing orders for updated versions which Hall built in small numbers. These were named either the Bercley or Jesmond.
In 1912, again under Mason's supervision, Newcastle coachbuilders Sir William Angus, Sanderson and Co, built the first batch of motorcycles called the NUT (Newcastle-upon-Tyne). Entering the 1912 Junior TT, Mason retired his JAP-engined NUT while Robert Ellis, with Moto-Reve power, was sixth. The following year, riding JAP-engined machines that Robert Bownass helped develop, Mason won the Junior TT with Ellis eighth. During 1912-14, Mason scored many Brooklands successes with a 350cc NUT-JAP, supported in 1914 by Bownass in the 500cc class.
With the company established by 1913 at St Thomas Street, Newcastle, their range expanded to include models from 350cc upwards for both solo and sidecar work, using mostly JAP V-twin engines, many painted in either distinctive brown or green enamel. Orders rolled in for the superb models, overstretching the NUT works, so Mason contracted a Birmingham firm to build a batch of models to his design. Unfortunately the frames were poorly made, and all had to be recalled from the dealers to be reframed by NUT in Newcastle.
Soon the works moved to new premises at Benwell, with new models for 1914 including 350/500cc Brooklands Racers and, in 1915, all chain-drive models were listed. NUT were only slightly involved in military contracts, building a small batch of 1000cc JAP-engined ambulance outfits. However, NUT's parent company, Angus, Sanderson was busy with Bristol and Armstrong-Whitworth military planes.
Following WWI, NUT eventually returned to motorcycle manufacture with an expensive luxury 500cc V-twin tourer but Angus, Sanderson refused Hugh Mason's wish for sports models, too. Manufacture returned to St Thomas Street, then Angus, Sanderson withdrew to develop a light car and NUT were bankrupt. Former NUT TT rider Robert Ellis bought the firm and production restarted in 1921 at premises at Derwenthaugh, Newcastle, first with a 500cc tourer and then a sports model.
Sales were low as money tightened nationally and, in 1922, NUT production ended again, but the company was restructured and restarted, some models using what was claimed to be NUT's own engine designed by W Thompson. From this shaky restart NUT developed a reputation for V-twin tourers, usually with JAP engines, and later added Villiers-engined lightweights to the range. In the late Twenties came an ohv 350cc Blackburne-engined speedway model. After more financial hiccups and changes of address, NUT struggled into the cash-strapped Thirties centring their range on attractive, well-made, JAP-engined V-twins. Despite the claimed development of ohc V-twins few, if any, were made, and NUT production ended in 1933. There were simply insufficient buyers with enough cash to purchase these handsome machines from 'up north'.
NV 1926-60 Sweden
Nymanbolagen AB began production at Uppsala with a unit construction 246cc ohv single, then went on to build 98cc two-stroke lightweights during the Thirties. Manufacture after WWII comprised 38cc mopeds and 50cc-250cc lightweights, using a range of proprietary engines from the likes of DKW, Royal Enfield and Sachs. NV became part of the MCB-Monark group of companies and seems to have disappeared as a brand in its own right c1960. Research suggests NV was also briefly marketed nationally as the Nyman during the Fifties.
NVT 1977-c1980 UK
As the BSA/Triumph empire crumbled, Norton-Villiers chairman Dennis Poore was invited by the UK Board of Trade to consider a merger with the ailing concern. At the time BSA and Triumph products were worth many millions in export trade, mainly to the USA. Over the winter of 1972/73 the companies reluctantly merged to form Norton Villiers Triumph. Poore endeavoured to streamline his new company by closing the Triumph plant at Meriden, a move leading to the famed 16-month sit-in; a situation solved when the Government sponsored a worker's co-operative.
All of this left NVT in a mess, the Norton factory at Wolverhampton was closed and NVT Manufacturing at Small Heath, Birmingham was officially wound up. NVT Engineering Ltd continued to make and supply relevant spares and NVT Marketing remained to supply Triumph and Norton machines. Their brief encompassed investigating new models and markets. Concepts included a V-twin 'world beater' and Wankel-engine-powered machines. This experimental work dated back to 1969 when Norton Triumph International installed a Sachs rotary unit (intended for a snowmobile) in a BSA rolling chassis, similar in basic design concept to the 294cc DKW/Hercules W2000.
For bread and butter income NVT developed their 49cc automatic Franco Morini powered ER1 (Easy Rider) moped, this model was later joined by the ER2 two-speed automatic moped, plus the Beaver, Brigand and Boxer 'sixteener' four-speed machines. All were often marketed under the BSA brand. Other NVT models included the BSA Tracker 125 and Tracker 175 trail bikes with six-speed single cylinder Yamaha engines. Yamaha engines also powered a 750cc model aimed at the police market. A surprising number of Easy Rider mopeds and Tracker trail models survive but as yet they haven't become 'must have' collectors' items.