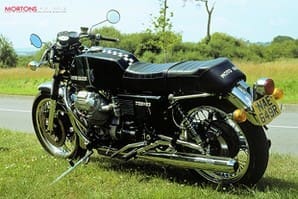 Moto Guzzi 1921- Italy
The Moto Guzzi founding partnership of technician Carlo Guzzi and wealthy backer Giorgio Parodi lasted for more than 30 years, yet there could have been three partners. Born in 1889, Carlo Guzzi joined the Italian Army during WWI, later transferring to the air corps as a mechanic/driver. There, he met wealthy flying officers Giorgio Parodi and Giovanni Ravelli. Despite their differing ranks, the trio became good friends, thanks to a common interest in motorcycling.
While awaiting orders, the trio planned to establish a motorcycle factory. The flying officers were to be the financiers while Carlo Guzzi would be the designer and Ravelli – who'd enjoyed racing success before the war – would be the first 'works' rider. Tragedy struck as the war was playing its final card when, in autumn 1918, Giovanni Ravelli died in a flying accident. Moto Guzzi's winged eagle emblem is in memory of Ravelli.
Many great plans often founder once circumstances change. Guzzi could have found an engineering position and Parodi returned to his wealthy upper-class life. Happily, one of the most amicable, enduring partnerships in the history of motorcycling was established. Parodi's family, led by his father Emanuele, provided the backing and Carlo came up with one of the most successful designs, the horizontal four-stroke single with bacon slicer style outside flywheel set very low in the motorcycle's rolling chassis.
Prototype engine design followed aero – rather than motorcycle – practice of the period, with shaft driven ohc four-valve cylinder head and dual ignition. The pair planned to name their machine GP (Guzzi and Parodi). However, Parodi vetoed the idea as it could be taken as GP meaning 'Giorgio Parodi' which he didn't want as the machine was a creation of the Guzzi-Parodi partnership. As the Parodi family put up the money they expected to control the business. Giorgio was president for decades until his death when his brother took over, while technical director was cousin Angelo Parodi. Carlo Guzzi was the chief designer, a role he held for decades, until he was joined by Lino Tonti and Giulio Cesare Carcano. Even then, he continued in an active role. Guzzi died, aged 74, in 1964.
Economics of production dictated some redesign from the exotic four-valve prototype to a handsome 498.4cc inlet over exhaust (ioe) horizontal single now called the Moto Guzzi (Guzzi Motorcycle). Surprisingly, they came up with the uninspiring model name Normale. Within two years, the Moto Guzzi factory at Mandello del Lario, near Lake Como, had added an ohv version to their range and, by 1924, ohc racers. In 1926, came the four-valve ohc 250 racer on which Pietro Gherzi finished second behind Paddy Johnston's Cotton Blackburne in the 1926 Lightweight TT, only to be disqualified for racing with a sparking plug of undeclared manufacture. Perversely, Gherzi's record lap remained awarded to him and his name stayed in the record books!
Leading additions to the range included the 500cc ioe Sport 15 in 1932 and 500cc ohv GTW two years later. Lightweights included the ohv 174cc P175 launched in 1932 and the ohv 238cc PE250, which appeared in 1934. Moto Guzzi continued to enter the IoM TT races most years following the Gherzi episode, gaining a worthy fourth with Stanley Woods on board in 1934. A year later, the Irish road race ace took Guzzis to a TT double (Senior – riding the superb 50-plus hp twin cylinder Guzzi Gambalunga which remained competitive into the Fifties – and the Lightweight with a single). Then, Ombono Tenni took the 1937 Lightweight TT.
Moto Guzzi rapidly became one of Italy's leading factories and gained useful military contracts including supplying the 500cc GT17 from 1932 and 500cc GTV from 1934. During WWII, they continued military supply with a modified version of the popular 250cc Airone, 500cc ioe Alce in both solo and sidecar trim and two tricycles. The 500cc ioe Trialce was for general transport duties – or could be fitted with a machine gun – and the 500cc ohv 500U was intended for personnel or general transport duties.
Continuing the military theme, Guzzi continued to supply the services after WWII, beginning with the 500cc ohv Superalce from 1946, 250cc ohv Airone Sports from 1952, 500cc ohv Falcone Turismo from 1953, 125cc ohv Stornello from 1960 and the 753cc ohv V-twin 3×3. This complex, variable track specialised military vehicle powered by a V-twin engine, cost the military a fortune to develop and was then made in relatively small numbers. As Europe moved away from war, Guzzi continued military supply, with the 703cc ohv V-twin V7, 500cc ohv Nuovo Falcone single, 844cc ohv V-twin 850-T3 and by 1980 the 490cc ohv V-twin V50-11.
Returning to civilian production, Moto Guzzi continued with their renowned single cylinder models, led by the Falcone and Airone roadsters along with delivery trikes but – new for the them – they started a range of two-stroke ultra-lightweights, beginning with the 64cc Motoleggera (1946-54), also known as the Guzzino, which was replaced by the Cardellino which itself had grown to 83cc by the time it was dropped in 1963. The Zigolo range began in 1953 with a 98cc version, which grew to 110cc for the 1960 season. In the late-Sixties, came the 48cc Dingo. Beyond our cut off date, Guzzi continued with two-strokes, including the 250TS based on Benelli design and trail models like the 125BX.
Mandello introduced four-stroke lightweights after WWII including the strange looking, but highly functional, Galletto (Cockerel). A scooter/motorcycle cross which was unveiled at the 1950 Geneva show as a 150cc machine, grew to 159.5cc when production began, then 174.4cc in late 1952 and a little over a year later 192cc. Although production ended in 1966, odd models still serve their owners as daily transport and they have become a cult scooter for some enthusiasts. Lightweight four-stroke single cylinder motorcycles of the period were the Lodola, 174.5cc (1956-58) and 235cc (1959-66) plus the 123.1cc Stornello Sport with a production run from 1960/61 to 1968.
As the Mandello factory moved into the Sixties, they looked beyond roadster singles and, drawing on the V-twin engine design used in the military 3×3, worked on a transverse V-twin design with shaft drive. First off was the 703.7cc V7 700 Special for 1967 which directly sired the larger V7 and V7 Sport. In addition to other 750cc variants, the engine was bored and stroked to give a range of super 850cc models, including the GT850 and the sporting Le Mans series. Larger V-twins were – and still are – made too.
Moto Guzzi re-established their racing department after WWII, with Giulio Carcano as boss and Fergus Anderson the development rider and team leader. Although a supercharged dohc 499cc three cylinder racer had been built just before the war and earlier other multis had been considered, Moto Guzzi kicked off with 250cc singles and 500cc in line V-twins developed from pre-war models. The 250 was especially successful, with Bruno Ruffo taking the 1949 and 1951 World Crowns, followed by another for Enrico Lorenzetti in 1952. Tommy Wood and Fergus Anderson scooped the 1951 and 1952 IoM TTs respectively.
The 500s enjoyed less success but, without doubt, had their moments and, for my money, led to some of the most exotic racing machinery ever, including the dohc water cooled four of 1952 and the dohc water cooled V-eight ridden to fourth in the 1957 Hockenheim GP and IoM senior TT by Lincolnshire's Dickie Dale.
Possibly their most cost effective racer was the 350cc single. Carcano had his finest day developing and enlarging the 250cc through a series of stages to give an ultra-light 350cc class winner. World titles for Fergus Anderson, Bill Lomas and Keith Campbell and IoM TT wins for Lomas and Ken Kavanagh followed. It may have looked a bit untidy compared with rival models, but it was the business. Guzzi – along with fellow Italian factories except MV Agusta – pulled the plug on GP racing at the end of the 1957, due to high costs involved.
Moving out of our remit, Guzzi have continued with development of the V-twin range from the 350cc V35 upwards, long distance racing and off-road models. Guzzi still supply many service users with their fast durable V-twins and the public with tourers, sportsbikes and custom models. Factory fortunes have been variable in more recent years, but they continue to survive and, at times, thrive.
Motom 1947-66 Italy
As post-WWII Italy gathered itself, Motom, from a standing start, leapt to the forefront of the Italian economy commuter market. Devoid of an illustrious past, the ultra modern Milanese plant built well engineered durable lightweights at rock bottom prices. These were no back street horrors, rather top quality engineering in miniature at an economy price. Rather in the way Motobecane factory had taken the French commuter market by storm in the Twenties, Motom did so in Italy after WWII.
Beginning with an ohv 49cc cycle clip-on unit, Motom soon began making complete motorcycles. First came a 48cc machine, then the 163cc Delfino scooter/motorcycle cross, launched at the 1950 Milan Show. Although 48/60cc lightweights for the Italian market were the backbone of their trade, Motom unveiled a super 98cc model in 1955. In the mid-Fifties, they were Italy's fifth largest producer behind Piaggio (Vespa), Lambretta, Moto Guzzi and Garelli, yet they were almost unknown outside Italy except through competition and successful record attempts.
By the end of the Fifties, Motom's home sales were plummeting, partly due to the rising popularity of small cars. They tried exporting and fitted proprietary engines, but to no avail. The 48cc Motom was readily tuned and was often found on the starting line of 50cc races.
Moto Morini 1937 – Italy
Bologna bred Alfonso Morini established a partnership with Mario Mazzetti in 1924 to build the MM (Morini Mazzetti) motorcycle. Leaving the partnership in 1937, Morini began building his own brand of lightweight three-wheeled commercial trucks and mechanical parts and equipment, especially for military aircraft. His factory was badly damaged during WWII bombing raids but Morini soon embarked upon a rebuilding programme, launching his first postwar motorcycle based, like others, on the DKW RT125 design
Racing versions both for the works team and privateers followed. The 1949 GP team included Renato Magi, whose two-stroke single finished second to Nello Pagani's dohc FB Mondial in the GP title chase and future 500cc World Champion Umberto Masetti, who was third, before moving to Gilera and the 500s. Although Morini developed stylish sohc 125s (123.1cc) for the 1950 season, which became dohc for 1952, they were never quite fast enough to challenge FB Mondial, MV Agusta and NSU for the title. However, Emilio Mendogni won both the Nations GP at Monza and the Spanish GP to give the Bologna factory their first Grand Prix wins. The little singles also performed well nationally.
On the roadster front, Morini introduced a 246cc single for the 1949 season and its engine powered commercial three wheelers too. At the 1952 Milan show, a 172.4cc ohv single engine was unveiled, joined a year later by a 160cc version. Although Morini had withdrawn from the world scene, they continued to support national racing in both the 125cc class and, from 1954, the 175cc Senior class in which Mendogni took the Italian Championship.
For the 1955 season, Moto Morini revamped their 175c range and listed three popular models named after card games. Top machine, the Settebello (Seven of Diamonds) – a fast roadster which clubmen stripped for racing – the Briscola (Trumps) and Tressette (Three Sevens). From these, the even faster five-speed 173cc sohc Rebello (Rebel) was developed, the machine for many young Italians to be seen on.
Racing is in the blood of most Italians and Alfonso wasn't done yet! From the Rebello, he developed the dohc 246.7cc Gran Premio which was intended for GP racing but also took the Italian National series by storm. It debuted at Monza in 1957, where Mendogni won with it a year later. Angelo Bergamonti enjoyed national success on it as did Giacomo Agostini, who also scored his first GP World Championship points with a fourth at Solitude, West Germany in 1964. But Tarquinio Provini was by far the most successful Morini star. In five seasons (1957 and 1960-63), he scooped six GP wins and chased home the mighty Hondas, finishing the 1963 title chase just two points adrift of World Champion Jim Redman.
Turning back to roadsters, Morini launched the 98cc Sbarazzinio in 1956 which was developed into the 123cc ohv Corsaro (Pirate) for the 1959 Milan Spring Fair. The Pirate continued into the Seventies with 150/160cc versions on offer. Following her father's death in 1969, Gabriella Morini took control of the factory, witnessing ISDT success in the early-Seventies and the launch of the stylish Dianna Marchesini/Franco Lambertini Junior designed 31⁄2, which went into production in 1973.
Morini's new V-twin was the first motorcycle to fit the Heron combustion cylinder head, originally developed for the 1966 Formula 1 World Championship winning Repco Brabham and was soon taken up by Ford and Jaguar for production cars. The ohc 72 degree V-twin engine was developed into 500 and 250cc forms, fitted to tourers, sportsbikes, custom cruisers and trail models. From it, 125 and 250cc singles were developed too. With many parts interchangeable, production costs were low, quality maintained yet a wide range was offered.
Production of the V-twins continued happily until worries over developing a new range of water-cooled models saw the family pass ownership of Morini onto Cagiva who really continued with more of the same, rather than reinvesting and developing.
Spares, enthusiasm and help abound for many models although parts for early roadsters and some racers are tricky.
Motopedale 1933-9 France
Began with basic 98/123cc Aubier-Dunne engined lightweights, some with pedals then added up to 500cc models to their range often installing JAP or Rudge Python engines although did use other proprietary units too.
Moto-Reve 1904-25 Switzerland
Makers of well engineered single and V-twin cylinder motorcycles and proprietary engines. Early models were direct belt drive with automatic inlet valve engines, but they soon adopted the all mechanical valve arrangement using side-valve, inlet over exhaust and ohv. They were keen early users of gearing and clutches.
Founded in Geneva by Monsieur David, Moto-Reve didn't stop at gears, clutches and engine design, they also made their own carburettors and magnetos, solving the problem of one weak and one strong spark when fitted to V-twin engines. Using a standard twin cylinder magneto, the 50-degree V-twin Moto-Reve needs its sparks delivered at 310 and 410 degrees of crankshaft rotation.
The Geneva factory achieved nice fat sparks at 180-degrees magneto rotation intervals by driving the instrument with a pair of eccentric gears, which had the effect of speeding up and slowing down the magneto to achieve sparks timed to suit the V-twin.
The factory entered selected racing events before WWI, enjoying mixed success, including two-retirements and a 25th place in the 1911 IoM Senior TT, entered as the MR. However, even these results Moto-Reve turned to their advantage incorporating knowledge gained into their designs. The majority of V-twin engines were of 275-530cc, while the singles were often 240-300cc. Moto-Reve established an assembly workshop in the UK, which sold machines under the Alp brand. After WWI, Moto-Reve resumed production until 1925.
These jewel-like, durable machines were made in reasonable numbers ensuring fair survival rates but ownership of a V-twin veteran model doesn't come cheap.