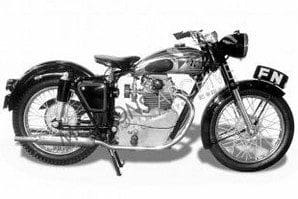 FN 1901-62 Belgium
Like BSA, FN (La Fabrique Nationale d'Armes de Geurre) were weapon makers. Founded in 1889, the Herstal company began making cycle frames in 1895, then complete cycles and their first 133cc single cylinder motorcycle in 1901. With sound financial backing, development progressed rapidly. By 1904, designer Paul Kelcom had built an air-cooled in line four cylinder 360cc shaft drive motorcycle on which, under the full glare of publicity, he toured Europe in readiness for marketing in 1905.
Early examples, sporting crankcase oil level sight glasses, soon grew in capacity, gained a clutch in 1908, and were chosen by the Belgian military, though that model's manufacture ended in 1926. RO Clark rode his FN Four to a third place in the 1908 Multi-Cylinder TT, raced at Brooklands and gained a Gold medal in the 1908 MCC London-Edinburgh-London.
FN didn't ignore the revenue potential of lightweights introducing their new 249cc single cylinder, side-valve, shaft-drive model for 1909, which was soon enlarged to 285cc. FN singles and fours served the allies during WWI, though the factory concentrated mainly on arms manufacture. An ohv 350 single, the M60, appeared in 1924 and the 500cc side-valve M67 two years later. Other models soon followed.
Although racing wasn't really FN's forte, unbelievable publicity stunts were. Three machines were ridden 5500 miles apiece across the Sahara desert in 1927, a lady rider enjoyed a jaunt from Saigon to Belgium and other endurance tests included 144 hours continuous riding without stopping the engine in 1930. Speed wasn't completely overlooked and, in 1934 Rene Milhoux (500cc FN) clocked 224.019kph (140mph).
FN re-entered the lightweight market in 1933 with 200 and 250cc two-strokes and extended the range to include 600cc side-valve and ohv singles. Top of the range models were given the tags 'Supersports' and 'Grand Prix.' Justifying these names, FN embarked on a successful Continental racing campaign with works riders Rene Milhoux, Ted Mellers, Pol Dementer and Jules Tacheny. A supercharged dohc parallel twin cylinder 500cc racer was unveiled in 1937, but as Europe approached war, development ended.
Before WWII, a transverse flat four, ideal for military sidecar work was launched. Along with a 500cc single and weapons production should have kept the factory busy, but it was commandeered by the occupying German military and then flattened during a bombing raid.
A three year rebuilding programme started in 1946 when using makeshift facilities, armament and motorcycle manufacture restarted. In 1947 FN launched the 450cc side-valve Type 13 with rubber band controlled front fork and rear suspension. Visually odd, it was ideal for Belgium's war torn roads, until replaced by telescopic forks in 1953.
The post-WWII rise in the popularity of motocross led FN to more fame. For seven seasons they were the team to beat with many national and international wins. Le Loup scooped the 1952 European Championship, then August Mingels followed with a succession of championships and although Sweden's Bill Nilsson won the first 500cc Motocross World Championship in 1957, Rene Beaton secured the 1958 trophy in FN's last year of major competition.
On the roadster front, FN focused on lightweights and mopeds through the Fifities with 125-200cc two-stroke singles, a motorised bicycle and later 49cc mopeds. The big singles were dropped in 1958 and by 1961, they were making just a 75cc motorcycle. A year later, FN had abandoned motorcycles but continued as weapons makers.
Well built and with thousands of fans in Belgium, some spares and help are at hand if you take the trouble to find it. The veteran and vintage four cylinder models, along with the post-WWII 500cc scramblers, are highly prized.
Focesi 1952-55 Italy
Touring and sports lightweights with two/four-stroke engines. They surface inexpensively in Italy but spares will be impossible in the UK.
Fochj 1954-57 Italy
Range of 49-247cc NSU engined models (a fact which eases the mechanical spares situation).
Follis 1903-60 France
A Lyon-based assembler of motorcycles, using JAP, Rudge, Blackburne, Ydral and AMC engines. French built Follis motorcycles still surface at reasonable prices.
Forelle 1955-58 Germany
Bad Wildungen cycle maker who built Ilo and Sachs powered mopeds. Rare find for the moped collector.
Fox 1931-c1948 France
Typical French utility lightweight usually powered by 98cc two-stroke engine. Inexpensive and different.
Foldmobile c1958-62 USA
One for the dedicated scooter collector. American licence built version of the 25kg French Martin-Moulet 'scooter-in-a-briefcase' which transformed into a road legal scooter in 30 seconds.
Francis-Barnett 1919-66 UK
Francis-Barnetts competed in the TT races between 1922-4, Tommy Meeton and his diminutive Francis-Barnetts held a fistful of capacity-class, world speed records and scooped Brooklands wins – especially in the handicap races.
F-B installed JAP engines in the Twenties and built the four-stroke Stag with Blackburne designed engine in the Thirties and ran both works trials and scrambles competition teams in the Fifties and early Sixties. But it's for their worthy commuters they are best remembered.
Captain Gordon Francis seethed as his 70th Motor Transport Workshops struggled to straighten bent Allied DR machines during WWI. Surely there was a better way to construct a frame for easy repair? He even sketched ideas on scrap paper. In 1919 Francis-Barnett was established at the former Excelsior works, Lower Ford Street, Coventry, a partnership of Gordon Francis, father Graham (Lea-Francis) and father-in-law Arthur Barnett (ex Singer and maker of Invicta motorcycles).
A 293cc JAP engined model was launched in March 1920, soon followed by 269cc Villiers and 350cc JAP powered machines, all housed in conventional frames. Gordon Francis then developed a 293cc 'Super-sports' model with JAP engine and, surprisingly for 1921, a saddle tank. Ideas flowed but sales didn't. Drastic measures were needed.
Economy motorcycles were their salvation and Gordon Francis developed his straight tube frame idea into a working motorcycle. The first 147cc Villiers engined models were displayed at the 1923 Olympia Show. The order book swelled. 'Built like a bridge,' claimed advertising, driving home the point with pictures of the Forth Railway Bridge, but another of their adverts was well wide of the mark, 'The frame that could be packed into a golf bag!'
The last JAP powered models had the straight tube frame and the popular Villiers-powered range expanded to include a 172cc sports model. In 1927 Villiers developed a 344cc in-line two-stroke engine especially for Francis-Barnett, although the French maker Monet-Goyon used it too. The engine was super smooth but tended to overheat. Sales were slow and Francis-Barnett used surplus frames for the 247cc Empire model.
Francis-Barnett appeared to have lost interest in motorcycles by the early Thirties and were running a profitable sideline supplying metal pressings to the automotive industry. This very work led to the Bill King designed 249cc Cruiser – launched in 1933 – with almost full enclosure. Two years later came the four-stroke Stag and in 1938 the 123cc Snipe and 98cc Autocycle, the Powerbike.
Like Triumph, the F-B factory was bombed during the Coventry Blitz and didn't return to motorcycle production until 1945 with the Powerbike and then in 1946 the Merlin. AMC bought F-B in 1947 and then James in 1951.
The Merlin was offered in competition form from 1951 along with the first Falcon (Villiers 197cc 6E) in both trials and roadster form. The 122cc Kestrel replaced the Merlin in 1953, then grew to 147cc a year later when the 30C engine was adopted. Breaking away from bird names briefly F.B launched the 224cc 1H powered Cruiser for 1955, soon offering the option of a 249cc AMC unit and later 174cc version (Light Cruiser).
The Kestrel gave way to the Plover for 1955 and by 1960 AMC two-stroke engines were adopted across the board. The futuristic Fulmar appeared for the 1961 season and Villiers power was again on offer in the 2T engined Cruiser Twin. The sports version came a year later and Villiers engines were again installed in F-B's competition models – the 32A for trials 32A and the 36A for scramblers initially, followed by the Starmaker. Sadly, Francis-Barnett were in serious decline by then. Eric Barnett, son of joint founder Arthur was killed by a hit and run lorry, the works were sold and demolished and the final production took place in the James factory at Greet, Birmingham.
Post-WWII Villiers engine spares are readily available. AMC unit parts and many pre-WWII Villiers spares are harder to find. Derided by some, F-Bs provided reliable transport for masses of commuters, many of whom had no mechanical bent.
Franzani 1923-32 Germany
Nurnburg manufacturer of 285cc two-stroke motorcycles and later up to 500cc JAP and Kuchen engined models.
Freital 1925-26 Germany
Marketing marque name used by DKW for 173cc motorcycles.
Frejus 1960-68 Italy
Maker of two-stroke mopeds and lightweight motorcycles with Rex, Minarelli and Sachs engines.
Frera 1906-36 and 1949-60 Italy
Founded at Tradate, Varese by Leonardo Frera production started with a pedal start 500cc automatic inlet valve single then 300cc singles to large V-twins. The Italian forces used both 499cc single and 1140cc V-twins during WWI for solo and sidecar work, including ambulance outfits.
During the 1920s Frera was a leading Italian marque. They excelled in national long distance racing, and two-stroke lightweights were added to the range. Emilo Fossio took over the factory in 1929 which was then hit badly by the depression. A stylish ohc 500cc single was launched in 1935 to no avail, and motorcycle production ended in 1936.
Frera motorcycle manufacture restarted in 1949 with a range of two-stroke lightweights and later mopeds and scooters. Both 'in house' and 'bought in' engines were used. As the post WWII motorcycle boom subsided in Italy, Frera began to struggle and ended motorcycle manufacture in 1960.
Frisoni 1952-57 Italy
Low level production of 160cc two-stroke scooter by Elettromeccanica Luigi Frisoni of Cedrate di Gallarate. Also made prototype 125cc models with Villiers and NSU engines. Surviving scooters are rare and sought after by collectors.
Fuchs 1949-57 Italy
Milan factory who built a tiny 98cc Sachs powered scooter, cyclemotor engines, mopeds and lightweight motorcycles 50-150cc. Fuji 1946-c1964 Japan Production started with a tiny rustic 135cc four-stroke scooter called the Rabbit. In 1950 it was updated with a pillion pad, basic suspension, klaxon horn and spare tyre to become the S-23. Then came the 170cc S-41 and the longer wheelbase S-31 (270cc twin-doubled up 135cc engine) called Jack the Rabbit.
More Rabbit scooters followed including a 225cc electric start model and the 1957 250cc Superflow with torque converter automatic transmission, indicators, a dimmer for the headlight rather than a dip switch, two-tone paintwork and a car type dashboard.
In 1958 Fuji launched a 90cc step-thru of similar styling to the Honda Cub. Fuji motorcycles were also marketed under the Gasuden logo.
Fusi 1932-58 Italy
Milanese importer of Belgian FN motorcycles run by Achille Fusi, who then built JAP engined motorcycles which were marketed as the RAS. Achille bought the CF marque and in 1936 manufactured the first motorcycle to bear the Fusi name, a 250cc single with a face cam engine based on CF design. The JAP models continued, also catalogued as the Fusi. After WWII manufacture of the 250cc ohc face cam machine continued in updated form and a selection of Garelli engined lightweights appeared.