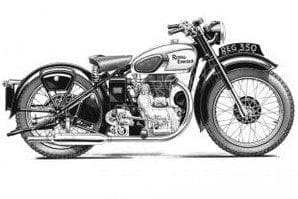 Eagle 1910-15 USA
Quality made Spake-engined singles and V-twins. Now rare and expensive.
EBE c1920-30 Sweden
Proprietary engine manufacturer who made cycle clip-ons and then complete machines with 172-598cc engines. A number of 172cc ohv models with three-speed Sturmey Archer gearboxes survive in Northern Europe.
EBS c1924-30 Germany
Berlin manufacturer who built complete single cylinder and V-twin motorcycles with their own and, later, Villiers engines.
Economic c1921-24 UK
Another of motorcycling's oddballs, and an interesting one too. An American designed 165cc horizontally opposed twin cylinder two-stroke mounted first in the fore and aft position and then transversely across the frame with friction drive. Although cheap it never sold well. The same engine design was used in other motorcycles, clip-ons and unbelievably a cyclecar.
Edmund 1907-24 UK
Chester firm who used a wide range of proprietary engines including MAG, JAP and Blackburne. A pioneer of rear suspension from 1911 – which was in effect a separate sub-frame supporting seat and footrests attached to conventional rigid chassis with leaf springs. The odd veteran, as well as vintage Blackburne and JAP medium-weight machines survive.
Egli 1968- Switzerland
Fritz Egli, like Colin Seeley in Britain, instinctively understands frame design and has wrapped his chassis around many engines, first 998cc Vincent engines, then Japanese Multis and singles. Recently, Fritz gained fame with his awesome turbo charged 1198cc V-four Yamaha V-Max powered superbike and at the other extreme Royal Enfield single powered models.
Eichler 1920-late Twenties Germany
Berlin factory with a turbulent history established by Ernst Eichler who built lightweights and scooters using DKW and Bekamo two-stroke single cylinder engines.
Elfa 1926-39 Germany
Wide range of models using proprietary engines including DKW, Sachs and JAP. From the early Thirties production concentrated on autocycle type machines.
Elite 1903-40 Germany
Company founded by Diamant. Made motorcycles intermittently through its history, also large powerful sports cars and luxurious tourers. Elite fully merged with Diamant in 1927 and was taken over by Opel in 1929. Motorcycle production included lightweight clip-on units in the Twenties, then Duralumin framed singles which became EO (Elite-Opels) with ohc Kuchen engines.
Elleham c1904-09 Denmark
Pedal start veterans with Peugeot engines. Survivors in Holland and Denmark.
Elstar 1968-71 UK
Frames and complete machines for speedway, grass-track and motocross. Elstars remained successful for some years after the builder died in 1971.
Elswick 1903-20
Established cycle maker who began building motorcycles in 1903, usually painted a shade of green identical to that used for Elswick cycles. A number of veteran and immediate post-WWI models survive, all with Precision engines.
EMC 1947-88 UK
Joe Ehrlich came to Britain before WWII and built a 250cc split single two-stroke engine upon Austrian Puch lines with a 'Y' connecting rod uniting the pumping and combustion pistons. Joe was allowed to work on his design during the war and production of complete 350cc motorcycles started at his Park Royal, London premises in 1947, before moving to Southall.
Production of this interesting but expensive 350 fizzled out in 1952, by which time Ehrlich was marketing the 125cc EMC Puch racer, which went well in club racing but not the IoM TT. He moved into the automotive industry before joining aero engineers de Havilland in 1960 as head of the 'small engine development'. After effecting a swap with MZ's Walter Kaaden – a worn MZ125cc race engine for a Norton front fork – de Havilland began making 125cc six-speed, two-stroke racers, the engine being based on the MZ. These machines, known as EMCs, were raced by Rex Avery to victory in the model's first race, Mike Hailwood and Tony Godfrey also rode them. Production ended in 1964 and de Havilland closed the small engine department.
Joe Ehrlich returned to motorcycle racing with a 250cc tandem twin cylinder two-stroke Rotax powered model. Donnie McLeod brought the machine into ninth spot in the 1987 250cc GPs at Le Mans and Anderstorp then finished 12th in the 1988 world title chase, but lack of funds saw the project fizzle out.
EMW pre-WWII-1956 Germany
Single and horizontal twin cylinder BMW-like machines built in the former Dixi (taken over by BMW in 1928) car factory, Eisenach, (East) Germany. Machines surface at mainland European autojumbles. Sadly, not many parts are interchangeable between EMW and BMW.
Enfield (Now Royal Enfield) 1958- India
Madras factory established with help from the British Royal Enfield company to build single cylinder motorcycles similar to the Redditch product. Although the Indian plant built other models, it's the 350/500cc Bullet that's exported in quantity to Europe. There have been major doubts in the past regarding quality control, but heavy investment in new equipment has seen many problems ironed out.
Escol 1926-38 Belgium
Hand built motorcycles with predominantly British built proprietary engines including Villiers and Rudge. Rare, but examples do survive
Eso 1949-62 Czechoslovakia
Factory founded by Jaroslav Simandl to build speedway engines. Later made complete machines for speedway and ice-racing. The speedway engine in both 350cc and 500cc form was modified for motocross and road racing. Enthusiasts have also used the powerful, quick revving unit for sprinting and hill climbing. ESO was absorbed into Jawa.
Ermag 1923-30 Germany
Highly prized, Albert Roder designed motorcycles with their own 246cc stepped piston, rotary valve, single cylinder two-stroke and a range of four-stroke singles, often with proprietary engines including MAG.
Evans c1916-24 USA
Well made, 119cc two-stroke, cycle framed, lightweight, which also sold well in Germany. A licence to manufacture the model was granted to the German firm Stock, who improved the design for their first motorcycle. The German firm Evans-Pondorf also built the Evans, but without a licence and Stock soon put a stop to this enterprise. Unheard of in the UK, but examples survive in Holland, Germany and America.
Excelsior 1923-24 Germany
Limited production of basic 245cc two-stroke singles built in Munich.
Excelsior 1901-39 Germany
The Brandenburg cycle factory began motorising bicycles in 1901 with Belgian made Minerva kits. Machines with purpose made frames soon followed with Zedel, Fafnir and again Minerva engines. During the Twenties, they favoured single cylinder side-valve and ohv JAP engines, which powered 'English styled' motorcycles, before they switched to Dresden manufactured two and four-stroke single cylinder engines in the Thirties.