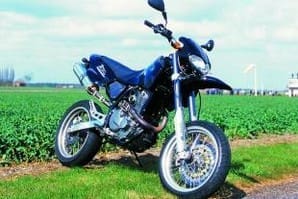 CCM 1971- UK
Following the closure of BSA's competition shop, Bolton based Alan Clews bought from Small Heath 12 BSA motocross frames, assorted wheels and sundries. Alan built one machine, installing a BSA engine, then another, then another – and CCM (Clews Competition Machines) was founded. Early models were named 'Clewstrokes' but CCM was used from 1973 on. The first models were based around the BSA B50 engine. Clews bought stock and machine tools as BSA sunk into liquidation and, when the British four-stroke motocross scene grew, many top riders including Bob Wright, John Banks, Vic Eastwood, Vic Allan and Jimmy Aird were attracted to the Bolton thumpers as was stunt star Eddie Kidd who jumped his CCM over 13 London double decker buses for a new record.
By 1980, CCM had become part of Armstrong but in 1987 Alan Clews bought CCM back again. A range of successful motocross and enduro machines followed but, in 1999, CCM took a brave step when they marketed their first road-going single cylinder machine, which with the use of interchangeable wheels converted to trail or supermoto trim.
Cecetto 1950-63 Italy
A range of 49-175cc two-stroke, ohv and ohc single cylinder lightweights from commuter models to sports motorcycles built mainly for the Italian market. Odd examples are finding their way to Northern Europe and the UK but spares aren't following so quickly.
Cedos 1919-26 UK
Northampton based firm who built 211/249cc two-stroke models with their own engines. The option of a ladies' model with a dropped frame was on offer too. From 1924 the range increased to include Bradshaw, Blackburne, Peco and JAP powered models of up to 1000cc.
CEMEC 1948-55 (CMR 1945-8, Ratier 1955-62) France
During the German occupation of France, French factories made BMW motorcycle parts. After WWII, CMR built 746cc side-valve flat twins upon BMW lines, using parts left over from the war. CEMEC succeeded CMR, continuing manufacture of the big side-valve twin before introducing an ohv version and a smaller 493cc ohv flat twin, again based on BMW design. Aircraft component manufacturer Ratier from Montrouge, Seine – who had made small cars in the Twenties – took over production adding a 597cc version to the range.
Centaur 1901-15 UK
First motorised sturdy cycles with Belgian Minerva kits. Throughout production Centaur experimented with design; square finned barrels, a variety of gear systems and even, at one time, the silencer housed in the frame downtube. They also bought in JAP and Humber engines. Survivors are rare but most engine types exist.
CF 1928-40 and 1966-72 Italy
Company founded by Catelli and Fiorani to build sporting 173/248cc ohc singles, tuned models of which won many Italian national races. The factory was taken over by FN in 1937. After WWII, manufacture restarted in mid-Sixties with a range of mopeds and ultra lightweight machines.
Champion 1960-67 Japan
Small range of 49-123cc two-stroke lightweights built by Bridgestone.
Chater Lea 1900-36 UK
Although a motorcycle maker of some note, they were better known as contract engineers and manufacturers of cycle and later motorcycle frames, lugs and fittings. The company was founded, circa 1890, by William Chater Lea, with premises at Golden Lane, London. In 1912, the works moved to Banner Lane and in 1928 Chater Lea opened another factory at Letchworth Garden City, Hertfordshire. The Banner Lane premises suffered during WWII and, although motorcycle production stopped in 1936, Chater Lea remained in business until the Eighties. The Letchworth factory building, known as Chater Lea House serves a number of small businesses today.
Like many manufacturers early motorcycles were of the 'clip on' type but soon Chater Lea turned to JAP and later Peugeot, Blackburne and Villiers, engines were fitted. Well built, many models were intended for reliable service rather than sporting achievement, but in 1922 an attractive, quick 348cc ohv Blackburne powered model was introduced. Burney and Blackburne development and tuning engineer, Dougal Marchant, broke many records at Brooklands with a 350cc Chater Lea Blackburne. The company had supplied combinations to the Automobile Association since the Twenties and, among the last motorcycles they built were a batch of 545cc side-valve Blackburne engined outfits with yellow box sidecars.