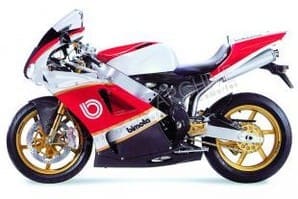 Berini 1949-c1960 Holland
Production commenced with a 32cc cyclemotor unit, nicknamed the 'motor egg' due to the shape of its fuel tank. The disc valve two-stroke engine, similar to that found in the British Cyclemaster, was mounted above the front wheel of a bicycle, driving via a roller pressed on the tyre. Mopeds were later added to the range. M13, was a clutchless 32cc single cylinder two-stroke clip-on cyclemotor unit.
Berlin 1958-65 Germany
MZ 148cc powered scooters built in the former East Germany. Again examples are found at international autojumbles.
Bernardet 1930-35, 1949-59 France
Initially they built motorcycles with Chaise and Train proprietary engines. But after WWII, the Bernardet brothers built a range of 125-250cc scooters, again powered by proprietary engines, which were popular in France and to a lesser extent Belgium. In 1955 the company came under the control of Le Poulain.
Beta 1904- Italy
A long established company that has produced a variety of predominately light/medium weight motorcycles. After WWII, the company concentrated on 125-350cc two and four-stroke machines many of which were exported to the USA. More recently the road going output has comprised Minarelli powered scooters and KYMCO engined motorcycles. However, the name Beta is better known for its excellent trials motorcycles on which Spaniard Jordi Tarres and British star Dougie Lampkin have won many world trials championships.
Bianchi 1897-1967 Italy

Born in 1865 and raised in an orphanage, Edoardo Bianchi was a natural engineering genius who built a large industrial empire. Aged 20 he established himself in business, by 1888 was manufacturing cycles with pneumatic tyres and, nine years later in 1897, built his first vehicle, a De Dion powered tricycle. By 1901 a prototype motorcycle was built which, a year later, was under manufacture at the Bianchi plant. All major components including the 2hp engine built under licence from De Dion Bouton were made in the Milan factory.
Always with an eye to the future Edoardo oversaw the adoption of Truffault leading link forks in 1905, and in 1910 an advanced Bianchi 500 was unveiled. The model was modified for military service with the Italian forces during WWI. In 1916 a 650cc V-twin was added to the range, larger and smaller versions were later adopted. In 1922 a British concessionaire, Benelli Motors Ltd of Piccadilly, was appointed and a number of models including a 350cc side-valve single (which looked like an AJS) were offered. Sadly prices were high and few machines sold in the UK.
Apart from making a range of excellent single and twin cylinder motorcycles in the Twenties, in 1925, chief designer Albino Baldi developed the dohc 348cc single cylinder racer, nicknamed the Freccia Celeste (Sky Blue Arrow), which took the Italian racing scene by storm. Team riders including Tazio Nuvolari and Mario Ghersi scored almost 100 victories by 1930, including five consecutive Italian GP wins. Later Dorino Serafini, Alberto Ascari and others joined the team racing the 498cc ohc single. But the factory's solitary pre-WWII trip to the IoM was less successful – for the Mountain Circuit was like nothing they had ever seen before. Edoardo Bianchi accompanied the three man team of Miro Maffeis, Mario Ghersi and Luigi Arcangeli who finished 13th, 14th and 20th.
A race programme continued, culminating with the dohc four cylinder 500, unveiled at the Milan Show in November 1939 but, as WWII was under way, it was too late to be raced. Further military models included in 1936 the 500M – a three speed 496cc side-valve single and a Bianchi three wheeled motorcycle-truck comprising a motorcycle front half with pick-up type back. It was sold for civilian use too.
With peacetime declared, Bianchis began to roll off the production line again – predominately lightweights, but perfect little motorcycles nonetheless. A handful of 400cc scrambles machines were built for domestic use and in 1954, Sandro Columbo designed the road going 175cc sohc Tonale which was soon modified for racing and world record breaking. For the first time Bianchi went two-stroke in 1959 with the 49cc Falco and 75cc Gardena moped-like lightweights which joined the established Tonale Gran Lusso.
Bianchi returned to the IoM in 1960 with six 250s and a single 350. Their effort was planned to coincide with a return to the British market of a selection of their road going models. A three man factory team led by Derek Minter and another trio entered by Terry Hill fared no better than the 1926 entry. Oscar Brambilla's ninth place was the only Bianchi finish.
Further racing forays, including another IoM assault and the Lino Tonti developed 440 and later 486cc twin cylinder GP racer, were to no real avail, and although the factory's lightweights were joined by a 200cc ohv single, motorcycle production was ended in 1967. The Tonale can make a superb and different restoration project and, with effort, parts can be sourced from Italian specialists or Continental autojumbles.
Bimota 1973- Italy
Founded in Rimini by three former air conditioning specialists, the name Bi mo ta is derived from the first two letters of each surname, Bianchi, Morri and Tamburini. Bimota only just creeps into our buyers guide's 25 year rule and as the firm initially built or modified frames for racing before embarking on a programme of specialist road machines, early complete machines are rare.
Blackburne 1914-21 UK
Proprietary engine manufacturer who, for a time, built complete motorcycles. A few examples (generally 550cc side-valve models) survive. Manufacture of Blackburne motorcycles passed to OEC in 1921.
BM 1950-72 Italy
Using Ilo, NSU and Morini two-stroke engines as well as his own sohc and dohc 50-125cc four-strokes units, Mario Bonviccini built a range of attractive lightweight motorcycles. Later the firm concentrated on under 100cc two-stroke road/off-road motorcycles.
BMI c1933-35 Holland
Cyclemotor attachment built by the Bilthovense Machine Industrie, used an outside flywheel. Of the few survivors most are in Dutch museums.