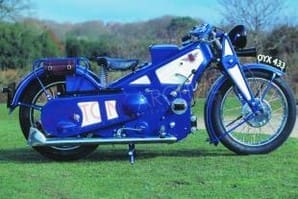 Armis 1920-23 UK
One of a host of small manufacturers who sprang up after WWI to cash in on the sudden high demand for motorcycles, the Armis Cycle Manufacturing Co Ltd of Birmingham ceased production in 1924 when the market shrank. Used proprietary engines including Precision, JAP and Blackburne for which spares occasionally surface at autojumbles.
Arno 1906-14 UK
Coventry factory who built 250-500cc single cylinder side-valve models using their own engines. Usually one or two examples complete the annual Pioneer Run. Air-cooled side-valve 498cc single cylinder four-stroke, direct belt drive.
Ascott-Pullin 1928-30 UK
Following press announcements during October 1928, the technically advanced yet modestly priced (£75) Ascott-Pullin was the star of the year's London Show securing a claimed 3000 orders for The Ascot Motor and Manufacturing Company of Letchworth, Hertfordshire.
Designed by former IoM TT winner Cyril Pullin using ideas from his earlier ill fated Pullin-Groom, the Ascott-Pullin bristled with advanced thinking – coupled hydraulic brakes, lay down engine with dry sump lubrication, pressed steel cycle parts and a car-type instrument console.
Unfortunately the company couldn't meet orders and a road test example threw leading journalist 'Torrens' off. By 1930 the firm was bankrupt, the remaining stock being knocked out by Renno's of Islington, London at £45 each. Other than those in museums a few examples do survive, but they're sought after.
ASL 1906-15 UK

Must be the earliest example of mono-shock rear suspension. Professor Archibald Sharpe developed the pneumatic suspension unit in the early 1900s, trading as Air Springs Ltd (ASL). Small numbers of quality built JAP powered motorcycles with a single pneumatic suspension unit controlling front and back suspension were built to both publicise and capitalise on the professor's idea, but sadly were of too advanced design for the majority of motorcyclists. Very rare.
Aspes 1967-82 Italy
Manufacture concentrated predominantly on off-road machines using their own two-stroke units as well as Morini and Minarelli engines for schoolboy sport. They also built road models and a small number of pukka 125cc road racers. A healthy number of Aspes 125cc motocross machines survive in the UK as they were a popular schoolboy mount in the Seventies.
Atala c1952-77 Italy
Accessory house who branched out into building mopeds, scooters and lightweight motorcycles, usually with small capacity single cylinder two-stroke engines. A moderate number of survivors with odd examples surfacing in the UK, but poor spares availability so value accordingly.
Atlas 1922-25 UK
Small Birmingham manufacturer who joined the post-WWI motorcycle boom a little late. Built a single model with their own two-stroke engine in either direct belt drive form or with an Albion two-speed gearbox and belt final drive. Air cooled 142cc single cylinder two-stroke. Rare but examples exist.
Austral 1908-32 France
Well known manufacturer who began building small capacity two-strokes in the Veteran period, later adding larger four-strokes powered by a range of proprietary engines. Rare today but restored examples are in use.
Autoglider 1919-21 UK
Designed by Charles Townsend, proprietor of the Townsend Engineering Company of Birmingham the Autoglider, like the ABC, was one of the better examples of the shoal of scooters which flooded the post-WWI boom market. The prototype followed the period theme of a child's style scooter with engine attached – and no seat.
Townsend even claimed a passenger could be carried in comfort, demonstrated by riding with his daughter Marjorie standing in front of him on the platform. However, following adverse publicity, rear bodywork and a seat were added. Early examples had Villiers engines, then Union (still manufacturers of locks) units which were replaced in 1921 by Villiers again.
Automoto 1901-59 France
Pioneer maker from Saint-Etienne who began with tricycles in 1900 before building motorcycles with Swiss, French and later British proprietary units. During the 1920s they built solid, durable models with Blackburne, JAP and Aubier et Dunne engines. Automoto was swallowed up by Peugeot and after WWII built more durable models often with French made AMC engines. Autoped 1915-21 USA, UK, Germany, Czechoslovakia A right little horror yet became quite popular due to excellent marketing. The 155cc 4-stroke engine is mounted beside the front wheel of a child's style scooter with a platform but no seat for the rider. A small fuel tank was situated above the front mudguard. Capable of up to 10mph, testers claimed no fatigue after a continuous 10 mile journey and people even raced them! Designed and built in America as the Autoped and assembled in the UK as the Autoped, in Germany as the Krupp and in Czechoslovakia as the CAS.
AWD 1921-59 Germany
Company founded by August Wurring offering a large range of motorcycles using German and British proprietary engines before WWII and predominantly Ilo units after the war. Sold as both AWD and Wurring. August also built race machines to order. Post-WWII examples surface on the Continent ranging from the SZ100 (air-cooled 98cc single cylinder two-stroke) to the SZ252 (air-cooled 244cc twin cylinder two-stroke, four speed gearbox).
AWO 1949- Germany
Began building a range of exotic single and twin cylinder 250cc 4-stroke in ohv, sohc and dohc form as both road machines and road racers in the former Simson-Supra car factory in what was East Germany. Name changed to Simson. Production of the four-stroke ended in 1960 but lightweight two-stroke production continued as Simson who later became commercially tied to MZ. Odd four-strokes are turning up in former Eastern Bloc countries but dealers know the scarcity value and if incomplete you will need comprehensive fabrication facilities for these are complex 'in house' built machines.