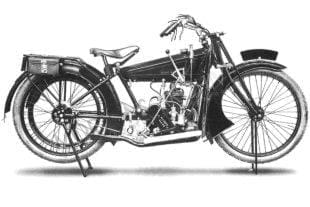 AJW 1926-77 UK
Financed by his family's printing works, Arthur Jack Wheaton (Jack) built two Anzani powered motorcycles in 1926, followed by a four cylinder version for the 1928 London Motorcycle Show. Production of Anzani and JAP powered V-twins began in 1929 then singles with JAP and Blackburne engines and later Rudge Python and Villiers powered singles joined the range. During WWII ownership of AJW passed to Jack Ball of Bournemouth and manufacture moved to Wimborne, Dorset.
Models included a 125cc two-stroke and 494cc side-valve twins, the Grey Fox and the Speed Fox (speedway model), all powered by JAP engines. When JAP cut output to just the speedway motor, AJW began importing Italian and German powered mopeds, moving on to assemble stylish Minerelli 50, 80 and 125cc two-stroke motorcycles.
AKD 1926-33 UK
Successor to the Abingdon (1903-26), well known tool maker Abingdon King Dick built a range of side-valve and ohv lightweights up to 350cc using their own engines. Of satisfactory build, detail fitments can be basic. Spares very scarce. Most popular was the 173cc ohv single with three speed gearbox and chain final drive.
Alcyon 1902-c1968 France
A leading French motorcycle manufacturer during the pioneer and vintage periods who then built lightweights and mopeds with proprietary engines after WWII. Some claim the Alcyon was named after a mythical bird, others a more mundane kingfisher. Whatever, they built some crackers pre-WWI including V-twins and vertical twins. And they experimented with four valve cylinder heads for ohv singles all before the Great War. They were successful in Continental lightweight racing during the inter-war period.
Aldimi 1953-56 (1958) Belgium
Began production with a 123cc Sarolea powered scooter, regally named the Prince de Liege then added a 200cc version using the same grand model name, again with Sarolea power. Ended manufacture of their own scooters in 1956 to concentrate on the assembly of London based Vincenzo Piatti designed 98/125cc scooters. In the UK, Cyclemaster of Byfleet, Surrey also built Piatti scooters.
Alldays 1898-1915
Allon 1915-24 UK
Production began with De Dion tricycles and quadricycles, then cars and dependable single and V-twin motorcycles with both 'in house' and Matchless engines. From 1915 motorcycles were marketed as the Allon, fitted with their own 292cc two-stroke engine as well as Villiers and JAP units up to 350cc. Both Alldays and Allons survive in modest numbers.
Allright 1901-27 Germany
Established Cologne engineering company who pioneered motorcycle manufacture in Germany. Initially fitted FN, Kelcom, Minerva and Peugeot engines and later Truffault forks. Sold in UK as the Vindec Special (1903-09) and VS (1909-14). Amalgamated with Cito in 1922, building KG machines as well as a range with their own 149cc two-stroke, plus both MAG and JAP engines. Ended motorcycle manufacture in 1927 when taken over by Paul Henkel.
Allstate 1951-63 USA
Brand name adopted by the catalogue and sales outlet company Sears Roebuck and Co for a range of scooters built by the American scooter maker Cushman. Launch models comprised the Standard Model 3hp and De-Luxe Model 4hp. Then began selling Austrian Puch machines under the Allstate brand soon followed by Piaggio (Vespa) scooters built in Italy. In 1961 the arrangement with Cushman ended and Sears Roebuck continued marketing Puch and Piaggio models, always branded Allstate through their national catalogue and outlet network. Alongside this, Cushman also began selling Piaggio built scooters. Sears Roebuck withdrew all scooters from their catalogues in 1963, possibly encouraged by the rapid growth of Honda sales in the US market.
Ambassador 1947-64 UK
Former car, motorcycle and boat racer/record breaker Kaye Don established his Pontiac Works, Ascot business to import American Pontiac cars before WWII. They carried out general engineering repairs during the war and began building Villiers powered Ambassador commuter machines of up to 250cc after WWII. Durable and modestly priced they sold steadily until Don retired and sold the business to DMW in 1964. A good restoration choice as post WWII Villiers spares are available. Kaye Don also imported Zundapp motorcycles.
American X 1910-31 USA
In reality 996cc Excelsior V-twins built by the Excelsior Autocycle Motor Manufacturing Company of Chicago, part of the Schwinn cycle empire. Sold in the UK as American X as there was already a British Excelsior company. Well built, fast, reliable, rare and exciting to ride, but where will you find spares? Examples also survive in New Zealand, Australia and Canada.
Ancilotti 1967-85 Italy
Assembled and marketed a range of 50-250cc off-road machines with Sachs, Morini and Hiro engines. Never directly imported into the UK but odd examples are arriving here now. Price dependent on model and how badly you want to be different.
Andrees c1923-29 Germany
Almost unheard of in the UK but examples survive on the Continent. Production started using Bradshaw engines, which were replaced in 1925 by MAG and Blackburne units. Despite building a new factory in the late Twenties the worldwide depression forced Andrees into liquidation.
Anglian 1903-12 UK

Built small numbers of motorcycles and three wheelers using proprietary engines including De Dion at their Beccles, Suffolk factory. Some early motorcycles were incredibly tall. Only 2-3 survivors.
HJ Densham made Anglian motorcycles and tricar is an Anglian motorcycle with forecar front attachment and extra tubular bracings.
Anker 1949-58, Germany
Established cycle makers of Bielefeld who built mopeds and lightweight motorcycles up to 250cc. Production transferred to Paderborn factory in 1952 and became the Pamag in 1958.
Anker c1965-72 Holland
Dutch built mopeds including the Ankermatic. Anker supplied the engine for the Ariel 3.
Aprilia 1975- to date
Italy Electrical component makers who went on to make cycles, mopeds and from 1975 motorcycles. Early examples have just crept past the VMCC's 25-year cut off date, but it will be a few years before the Suzuki two-stroke twin powered RS250 and the 998cc dohc V-twin RSV Mille grace the classic shows.
Ardie 1919-58 Germany
Company founded in Nurnberg by and named after ARno DIEtrich a former Premier of Nurnberg – offshoot of Premier of Coventry-engineer. Initially, 305cc and 350cc single cylinder two-strokes were offered. Ardie ownership passed to the Bendit factory in 1922 following the death of Deitrich in a racing accident. From 1925 to the mid Thirties, Ardie built a range of 246 to 996cc JAP powered machines, some of which had Duralumin frames. During the Thirties, Ardie switched to Bark, Kuchen, Sachs and Sturmey Archer engines, with Richard Kuchen developing a sophisticated 346cc ohv transverse V-twin in 1938. Only a handful were built before WWII.
Durkopp took over control of Ardie after the war and a range of top quality commuter machines were made with 122cc single to 344cc twin cylinder two-stroke engines boasting cross flow cylinder heads, built 'in house' and designed by Dr Noack. Despite joining the Continental moped boom in 1953, Ardie folded in 1958. Although they never competed in the IoM, Ardie won many Continental road races in the inter-war period. Both pre and post-WWII examples survive in mainland Europe with odd machines cropping up in the United Kingdom.