In this series of extracts from his forthcoming book, Mike Lewis looks at the evolution of social motorcycling in Britain and the USA.
Words: MIKE LEWIS Photography: MORTONS MEDIA GROUP
On December 12, 1896, an exciting new mode of transport featured on the front cover of Scientific American.
Described as a 'motor cycle using benzine' and manufactured by Hildebrand & Wolfmüller in Munich, Germany since 1894, the purpose-built machine was the first of its kind to reach a mass market.
But although the company had big export plans for its twin-cylinder Motorrad, owner dissatisfaction with a complex starting procedure condemned it to a short production life.
Early motorcycle builders in Britain and the USA generally tried to attach a proprietary single-cylinder petrol engine to a variant of the safety bicycle chassis, with established cycle firms such as Excelsior in Coventry and Orient in Waltham, Massachusetts, selling production models in this form before the century's end.
Contemporary photographs suggest that motor-bicycle enthusiasts gathered at cycling clubs during the 'bicycle boom' of this period, but the first recorded meeting for the specific purpose of forming a motorcycle club was held in a London cafe, in November 1901.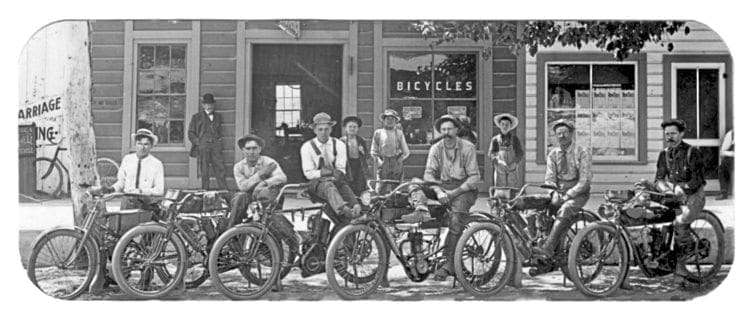 The resulting Motor Cycling Club (MCC) set about organising social runs, race meetings and long-distance reliability trials for its members, and it remains active as the longest-established motorcycle club in the world.
February 1902 saw publication of the first issue of Motor Cycling, meriting a stand at that year's Automobile Show in London, and The Motor Cycle followed in 1903, doubling the scope for national coverage of topics relevant to enthusiasts.
During this year, the Automobile Club of Great Britain and Ireland created the Auto-Cycle Club (ACC) with a sporting remit to test the qualities of machines and their riders, although it also offered social and tour-planning facilities for members.
1903 also brought into existence the first American motorcycle club, Yonkers MC (it should be noted that the letters 'MC' have traditionally denoted any social type of motorcycle club in the USA).
Rapid growth in the popularity of motorcycling brought a threat of restrictive legislation, which prompted Yonkers MC to host an open forum for interested parties at its clubhouse in Brooklyn, New York.
The result was the Federation of American Motorcyclists (FAM), founded on September 7, 1903 and defined in article one, section two of its constitution as follows:
"Its objects shall be to encourage the use of motorcycles and to promote the general interests of motorcycling; to ascertain, defend and protect the rights of motorcyclists; to facilitate touring; to assist in the good roads movement; and to advise and assist in the regulation of motorcycle racing and other competition in which motorcycles engage."
Britain's ACC was a founding member in 1904 of the international governing body for motorcycle sport, the Fédération Internationale des Clubs Motocyclistes (FICM), which would later be renamed the FIM.
The ACC was itself renamed the Auto-Cycle Union (ACU) in 1907, and went on to establish a series of trials and endurance events covering the whole of the British Isles.
In similar sporting vein, the British Motorcycle Racing Club, also known as BMCRC or Bemsee, was founded in 1909 at Brooklands circuit in Surrey.
Competition was then, as now, a great driver of technological advancement and both organisations survive to this day, the latter being recognised as the oldest motorcycle racing club in the world.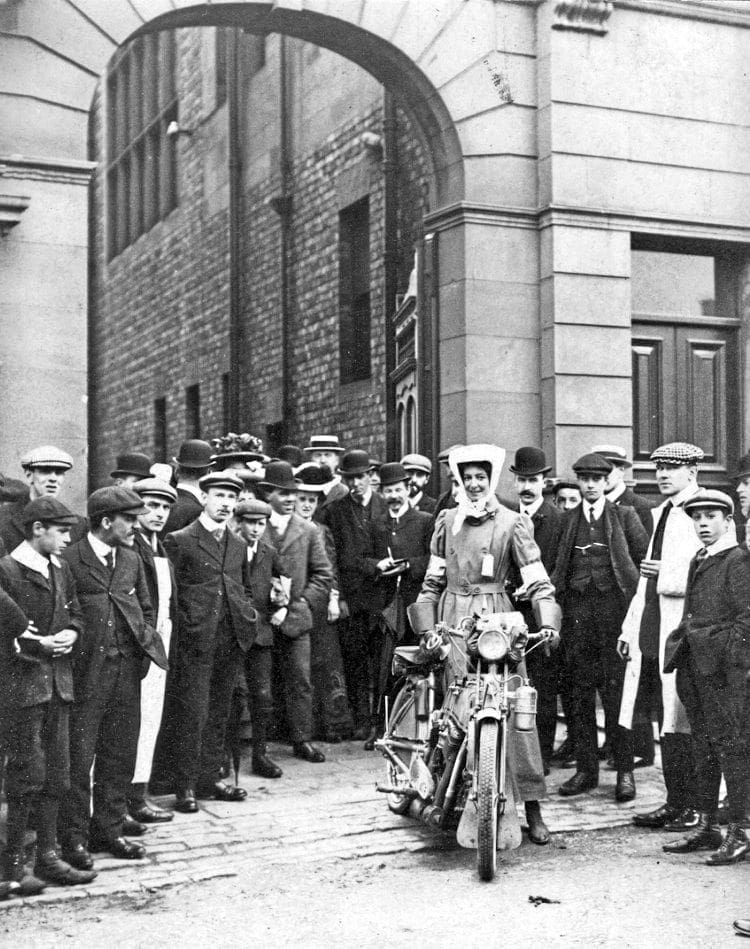 The British Cycle and Motor Cycle Manufacturers and Traders Union, a forerunner of today's Motorcycle Industry Association (MCIA), was established in 1910 for the purposes of industry standardisation and trade protection.
Female riders remained constrained by censorious attitudes in society, and only a few very determined women such as Agnes Muriel Hind, an early member of the MCC who was reputedly the first female in Britain to ride her own motorcycle, succeeded in competing on equal terms with men.
The Motor Cycle championed the cause of women riders from the outset, and helped to persuade several manufacturers to produce open-framed ladies' models that could accommodate full-length skirts.
The young American rider Carl Stearns Clancy, in the course of becoming the first person to travel around the globe by motorised means on his four-cylinder Henderson motorcycle, observed in 1912 "many short, noisy, belt-driven English machines, but rarely without a side car attached," noting that students in Oxford got around "on bicycles by the hundreds and motorcycles by the score."
Demand for new machines was such even relatively large manufacturers such as BSA could sell out their entire production runs, while regional clubs existed in sufficient numbers for The Motor Cycle to run a monthly series profiling the major ones.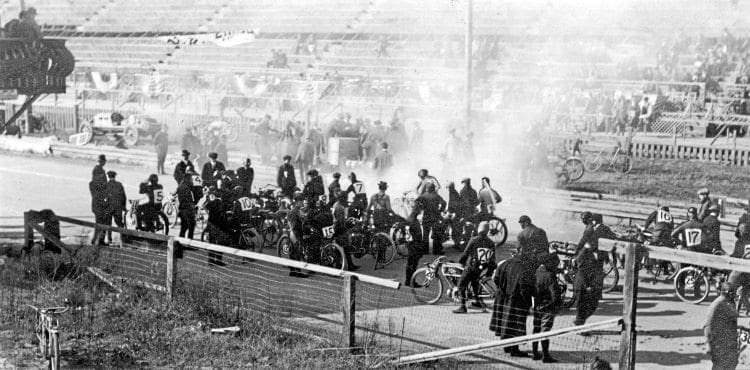 Following the British declaration of war on Germany in August 1914, the ACU stepped forward to help the War Office with the provision and training of motorcyclists.
Many potential recruits were interviewed by the editor of The Motor Cycle, for military duties ranging from dispatch rider to ammunition carrier, scout, medical supplies courier, mechanised infantryman or light ambulance driver.
Meanwhile, a passion for board-track motorcycle racing, originating in California, had gripped wider American society by 1915, when membership of the FAM exceeded 8000 individuals and many hundreds of clubs.
The Van Buren sisters, Augusta and Adeline, gained national publicity for a solo coast-to-coast ride a year later, during which each was arrested several times for wearing male motorcycling attire.
Although the sisters' main aim of being accepted as military dispatch riders was unsuccessful, their adventure did demonstrate the motorcycle's rapidly growing potential as universal transport, until the Conscription Act of June 1917 plus the redirection of manufacturing output to help the war effort bled the FAM of its core membership.
Further proof of ubiquity came when the first US soldier to enter Germany at the conclusion of the First World War did so on a Harley-Davidson motorcycle.
Although the global conflict and subsequent Spanish 'flu pandemic proved particularly deadly to young adults, both depleting the prime motorcycling demographic, the motorcycle's proven versatility in the field helped the ACU to sign up an additional 18,000 members within six months of the November 1918 armistice, and UK new-machine registrations jumped from 114,722 in 1919 to almost half a million in 1924.

The FAM folded in 1919 and the industry-sponsored Motorcycle and Allied Trades Association (M&ATA), which had been established three years earlier, effectively took its place.
An early priority for the M&ATA was to maintain continuity in the annual 'Gypsy Tour' programme.
This had been initiated over the weekend of June 16-17, 1917, when an estimated 22,000 riders plus half that number of sidecar passengers had embarked on a 'sociable ride' around New England, covering up to 100 miles each day.
Following a pre-ordained scenic route, the format encompassed a social picnic plus various competitive motorcycle-related games, with souvenir medals awarded to participants.
The M&ATA greatly increased nationwide participation in these tours during the next four years and on May 15, 1924, its thriving Riders Division, now with some 10,000 members, was renamed the American Motorcycle Association (AMA), the slogan of which, as stated in the following week's issue of Western Motorcyclist and Bicyclist, was:
"An Organized Minority Can Always Defeat an Unorganized Majority."
Since participation in Gypsy tours now required AMA membership, they were a powerful recruiting tool for the new organisation, which was ratified on August 1, 1924.
Concerned from the outset with public image, the AMA issued press statements intended to encourage safe and responsible behaviour by its members, but little did its policy-makers know how destructive for this image the actions of an unorganised minority would prove to be in just over two decades' time.
Read more News and Features at www.classicmotorcyle.co.uk and in the latest issue of The Classic Motorcycle – on sale now!