The small Paton concern punched well above its weight in 1960s GP racing. And it still regularly enjoys that successful feeling today, with John McGuinness pictured here on his way to winning this year's Classic Senior TT.
Words: Rachael Clegg Photographs: Steve Babb and Mortons Archive
It's almost impossible to miss a Paton racing past – even with your eyes closed.
The machine's deep, resonating hum is enough to identify the Italian racer even from half-a-mile off.
And if you can't hear it, you'll spot the machine's bright green, super fun, toy-like livery from just as far away. In comparison, everything else seems a bit dour.
But this is nothing new: the Paton has been catching people's eyes (and ears) for decades.
Among its converts is Raymond Ainscoe, who wrote 'Paton GP Racers: 1958 to 1975.'
He said: "I'll never forget it – I was just a kid at the Isle of Man TT and I can remember it very well because the 250cc race was on the same day as the sidecar race and the sidecar race had a Gilera running second."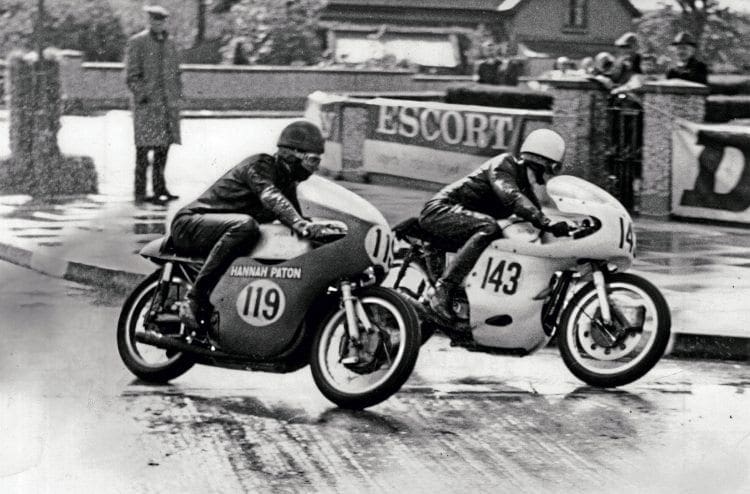 The Paton struck me in particular because it was a rare Italian bike and I had probably never heard of it before. It was 1964 so there must have been three or four works Hondas, a works Benelli and some Cottons, but they were bog standard stuff to me. When I saw the Paton it was like 'what's this?'"
The bright green machine became tattooed on Raymond's mind so much that, decades later, he's traced the majority of the living associates of the Paton marque.
And all this painstaking research is concisely summarised in his book.
But to understand Paton, one has to look back a bit further, to Mondial – the marque for which Giuseppe Pattoni worked.
At Mondial, Pattoni was the race shop mechanic for English rider Cecil Sandford, whose machines included a single cylinder dohc 125cc and the 1957 TT-winning 250cc machine.
Read more and view more images in the November 2019 issue of TCM – on sale now!