Words: MICHAEL BARRACLOUGH Photography: WORLD'S GREATEST MOTORCYCLE RIDES
Henry Cole's television programmes about travelling the world form the cornerstone of the audio-visual diet of those afflicted with wanderlust. Spending up to five weeks at a time riding one of his bikes through a new country, Henry spends a huge portion of his life on the road, on an adventure.
As a full-time TV presenter and the owner of two companies, Gladstone Motorcycles and HCA Entertainment, Henry Cole is a man who has to keep a lot of plates spinning. He does this by managing his time as effectively as possible – with a little help from diligent friends and colleagues such as Hamish Rieck, producer of one of Henry's most successful TV shows, World's Greatest Motorcycle Rides.
Since a very young age Henry has had an interest in motorcycles, and after a long and varied career in the television industry (including positions as a news cameraman and a director) he began presenting his own shows.
These were about cars at first, but soon Henry was able to start showing the world how a greater sense of freedom and adventure can be found when you engage with your environment and become a part of your surroundings by ditching four wheels and travelling on two.
What was it that first sparked your love of motorcycles?
I had this crazy great-uncle – Uncle Dick 'Red Beard' Gladstone – and we used to go to a rambling house near Liverpool in the back of this Morris van when I was a kid.
Red Beard was crazy about old British bikes and he took me into his shed and showed me a whole collection. There were some flat-tankers there, I seem to recall. I remember the smell of it, the look of the bikes and his eccentricity and I just thought: "This is for me," for some reason. It really started from there.
My father would never let me have a motorbike. I had to wait until I was about 13. Later on in life I used to ride my GSXR1100 'slabside' down from London, park it at the railway station, lock the helmet to it and pretend I'd come on the train.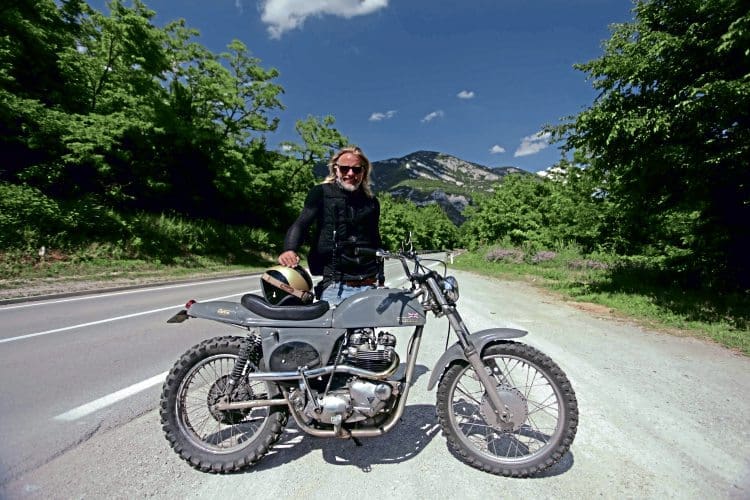 I think that's what it is about motorcycling; it's all about being able to be an individual, and that sense of comradeship among motorcyclists is what perpetuates the passion to the point that, at 51, I'm kind of obsessed really.
Do you have a favourite classic motorcycle?
I've got a few bikes and I'm just trying to think; if I had to take one motorcycle to a desert island with a nice road round it, I think it's my Norton.
I've got a Norton 'bitsa' that's based on an ES2, and it's been customised by somebody else, so the tank I don't think is even a Norton. It should have girder forks but it's got teles. It's got all kinds of bits and bobs that shouldn't be on it, but for me, as a riding bike, I think out of all my motorcycles it's the one I love the most because it does everything for me.
I've just done a World's Greatest Motorcycle Rides on it through Wales. I rode 400 miles and, for a bike from 1947, the only thing I had to do was dry out the mag in torrential rain.
I've got a Steve McQueen replica Metisse and, to me, that ticks all the boxes as well. It's all about a bike that ticks as many boxes as possible. It's very difficult to find a bike that does absolutely everything.

For anybody who hasn't been watching the show, how would you describe World's Greatest Motorcycle Rides?
I think the show is obviously, as the name implies, a journey from point 'A' to point 'B' in a country. What I think makes it different is basically we try and do routes that anyone could do over a two or three week period.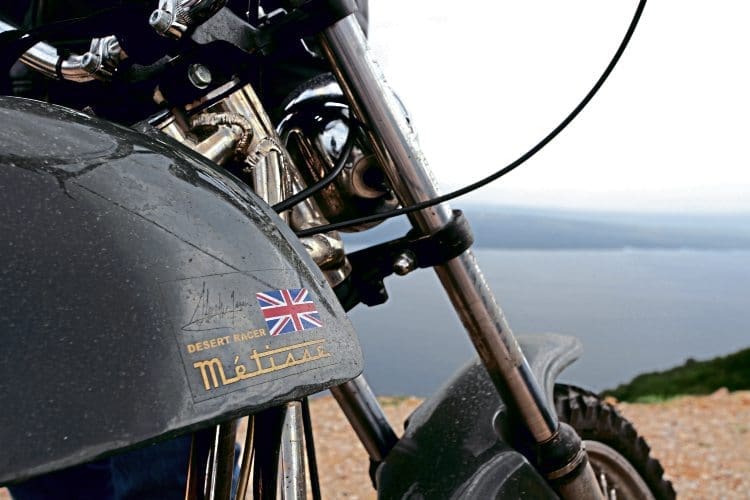 So even if you wanted to ride across Australia, this is how to do it in three weeks. World's Greatest Motorcycle Rides is also about making it as real as possible.
So it's me on the bike, and I do have one camera car with my producer Hamish – who drives the car and does sound – and a cameraman. We have to have that because of all the camera gear we have. But apart from that we keep it as minimal as possible.
If you have a load of support crew it's not really motorcycling. I think it's also about using a motorcycle to get to the most amazing places or meet the most amazing people. I try and use the show to eulogise about my love of motorcycling but not be too technical, so people that have a passing interest but like the travel element can understand why we all love motorcycles.
How do you typically prepare for the motorcycling adventures that you undertake in World's Greatest Motorcycle Rides?
How it works is simple. Hamish, my producer, plus a researcher and me, initially plan a route. But it's primarily Hamish who decides where we're going to go after running it past me. We talk right up front about what route we're going to do and then he goes away and plans a route.
Normally two items a day are pre-planned, but we leave it as fluid as we can for people that we meet along the way. It takes probably two to three weeks to put together a five week trip. I normally own the bike that we're doing the show on.
The preparation is quite detailed, but the preparation for riding isn't detailed at all – I just get on the bike, check it's got oil in it and go. If it discombobulates… well, it does and we'll work it out. I've got a toolkit with me. It sounds simple but it is, really.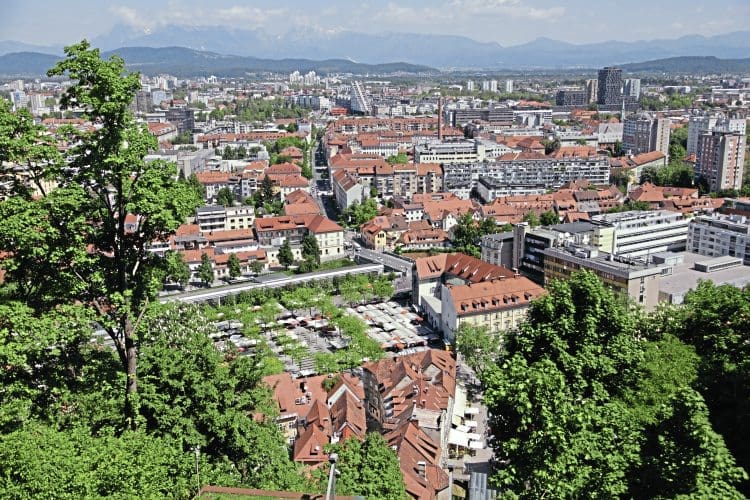 Have there been any motorcycling adventures that you've felt particularly apprehensive about before embarking on them? The Australian outback must have been pretty daunting!
I know this sounds a bit odd, but a lot of my experience says actually this world is quite a small place. So even if you're in the outback of Australia and you are hundreds of miles from anywhere, I would say you are always – with a decent bike – a full tank away from civilisation.
The trick with outback riding and stuff like that is that when you see a petrol station – even if you're half full – fill up. Never miss a gas station. It sounds basic, but it's so easy to do.
I also attempted a land speed record on a Brough Superior at Bonneville Salt Flats, and I was very nervous about that. I'm not a racer, I'm a road rider, and I'm lying on this bike on the Bonneville Salt Flats with a geezer saying to me: "Are you ready to do this?" and I'm thinking: "Am I?" and off I went.
I was absolutely terrified. Once you ride on the Bonneville Salt Flats you get this thing called 'salt fever' which means that you have to go back. We've built a classic land speed 350cc bike and we go back next year.
How did the idea of marrying TV and motorcycling come about?
I've had a really weird and eccentric career really. I started as a news cameraman, then went through directing loads of rock n' roll stuff on the road with heavy rock bands, directing TV commercials… then directing movies.
In 1995 I was sitting down with a guy at Channel 5 and I said: "I want to do a thing called Stars and Cars." And he said: "Okay, we'll have that." Then I said: "Yeah, but I'm going to present it because I'm bored of presenters."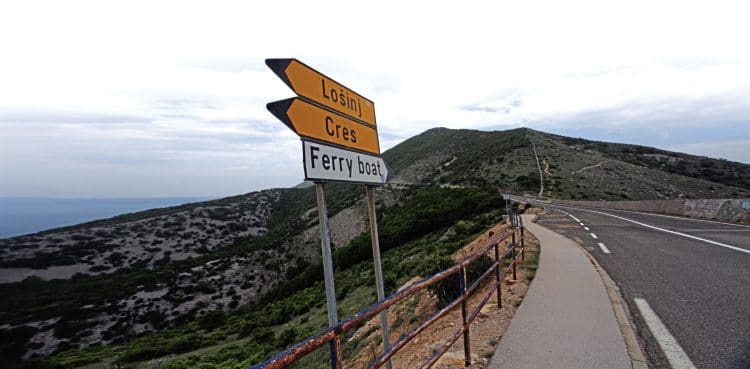 And he said: "I'm not going to do that, you've never presented anything." I told him I'd make one for free – a Christmas special – and if it rated they could give me the series, if it didn't he could buy me lunch. So we made it, it worked, and it ran for five years.
But my main love was motorcycles and I knew I couldn't get motorcycles straight away. I then went to see Travel Channel about something and got to know the boss.
He let me do Route 66 on a Harley and it was their top rating show. That turned into World's Greatest Motorcycle Rides so we were off, and it is still their top rating show today.
Read more News and Features at www.classicmotorcyle.co.uk and in the latest issue of The Classic Motorcycle – on sale now!