The life and times of a BSA apprentice who became an engine builder… and also did some sidecar passengering.
Words: Tim Britton Photographs: Colin Washbourne/Mortons Archive
How many young lads went in through BSA's doors to begin an apprenticeship with the engineering giant? There must have been a goodly number and it seems like a dream job for any young motorcycle enthusiast; to be employed in the industry by what was, in the 1950s, the world's largest motorcycle manufacturer and be paid to learn about motorcycles.
It was in to such a world Colin Washbourne entered in August 1953.
Colin remembers well his life as an apprentice: "Essentially at the start you were a 'gofer'. All sorts of things were a test to see what you'd learnt or picked up until you started doing work on various projects, or more correctly being with whoever it was who was doing the job."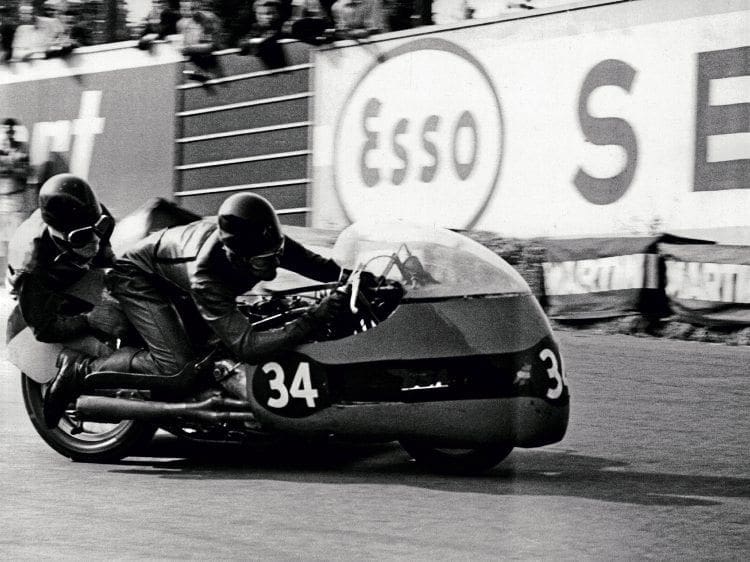 It was in this way Colin became involved with BSA's stunning domination of the 1954 Daytona 200.
"The engines and bikes were supposedly production machines, and they were based on the production bikes, but those team machines all came down to 'Experimental' and were carefully gone over. With people such as Roland Pike in the department the attention to detail was incredible. I know it was a prestigious race and winning was important but all that concerned us was beating Triumph…"
Colin met up with another BSA employee by the name of Chris Vincent – who was making a name for himself as a sidecar racer. "Chris was just on the grasstracks at first then went onto road racing. Eventually after a falling out with a boss at BSA I went to work for Peter Chapman at his garage, which gave us time to race but not much money.
"Then for the 1962 season I'd gone in the chair for some tyre testing sessions and ended up doing a season of the continental circus."
Read more and view more images in the May 2019 issue of TCM – on sale now!