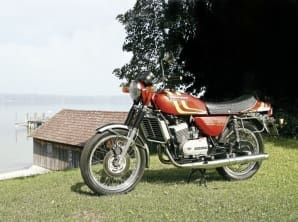 The BMW rider who stopped alongside looked aghast.
Then, he was openly frowning at my bike, as we sat alongside one another at a red light.
I had already noted his doubtful looks, and when I pulled into stop for petrol the Beemer rider followed me into the garage, flipped up his visor and shook his grey-haired head in disbelief.
"Nah, that's a fake. Zündapp never made one of those. So what is it?"
But inspection confirmed his first idea – that it was a Yamaha RD engine shoehorned into one of the late KS175 frames – was wrong.
It is in fact a rare prototype of a machine which could have made a significant difference to the German motorcycle industry – and if it had been produced that fellow at the lights may have been riding a Zündapp, rather than a BMW, when he stopped alongside me.
The typical German instrument layout combined with the almost Italian-esque frame (the coupling that had my riding companion momentarily stymied) makes the prototype two-stroke twin a decent handler with plenty of 'go.'
It's just a shame nobody could ever buy one.
The two 28mm Mikuni carbs needed little choke to get the engine ticking over nicely, despite the fact it was still a piston-port arrangement.
Just as pleasing was the clutch, which worked well and with virtually no drag, making changing up or down on the six-speed gearbox a pleasure.
The draw-key gearbox on Zündapp's smaller models was known to have problems, including false neutrals and disconcertingly long travel for changes.
Read more in the June edition of TCM